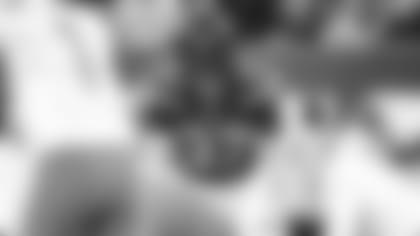 The Jets suffered a tough home loss to Miami on Sunday, and the defense, while playing better than the previous two weeks, still had issues, as head coach Robert Saleh bullet-pointed after the game.
But Saleh on Monday made reference to "a lot of exciting pieces on this team that are hidden in these losses." One of those pieces was cornerback Bryce Hall. ts
The second-year man from Virginia had a solid if unexciting stat line. His eight tackles were a single-game high for his career. And his tackling plus his coverage in giving up no explosive plays to Dolphins receivers prompted Pro Football Focus to give him a 90.4 grade, their third-highest of Week 11 through Sunday's games for all NFL cornerbacks.
PDs? Hall, after racking up a team-leading eight pass defenses, all in a five-game span, had none against Buffalo or Miami. Or more accurately, none vs. the Dolphins that counted. He did have a clutch breakup on third-and-4 at the Jets 5 early in the fourth quarter of a Tua Tagovailoa crossing pass to RB Myles Gaskin, which likely would've led the 'Fins to settle for a field goal and a 17-14 lead. But on the play, John Franklin-Myers was flagged for roughing Tagovailoa. Hall lost his PD and Gaskin and the Dolphins went on to score their last touchdown three plays later.
Hall was asked Monday if Franklin-Myers offered any "my bads" about the penalty once they got back to the sideline. But he didn't need to hear anything from his front-line friend.
"I know JFM. He's playing hard. That's just the kind of dude he is," Hall said. "I understand that's going to happen from time to time. I know who he is and we have a good relationship off the field. I know his heart is in it, his heart is right."
The same can be said of Hall, the Jets' fifth-round draft choice in 2020. His heart and ability have emerged through this season's first 10 games.
"I think I've done a decent job," he said before conducting a short interview with himself. "Am I at where I want to be? No. Do I feel like I'm improving as the season goes on? I think so. I think the biggest thing to take my game to the next level is coming down with those game-changing plays, creating turnovers, continuing to be in position to make those plays and then just coming down with those balls.
"And I think that will be the difference. I'm going to continue to grind and get after those. I'm encouraged that we've got seven games left. I think it's coming."
And coming not just for No. 37. Saleh talked after the 24-17 loss and again Monday about "the plan" and how "things are going to flip" when the young Jets reach maturity. Hall couldn't agree more.
"Coach Saleh, one of his superpowers is he's patient," the corner said. "But it's evident he wants to turn this thing around. He's a dude who wears his emotions on his sleeve. You can see during games that he's passionate, he cares about this program, and he has a lot of heart.
"Are not winning most of our games taking a toll on him? I'm sure it has. But I feel like he still keeps that energy and that passion. He fully believes this thing is going to flip. And I believe that, too. I've been in situations like this back at UVa, seeing the whole thing flip. So I'm encouraged it's going to get done. It's not a matter of if, it's just when."
And Hall, although not a member of this year's highly touted rookie class and sometimes hidden on a currently struggling Jets defense, figures to be in the middle of helping to get things right side up. Next up for him and his group to make some progress in that regard comes Sunday at Houston's aptly named (for the youthful Jets) NRG Stadium against the Texans.