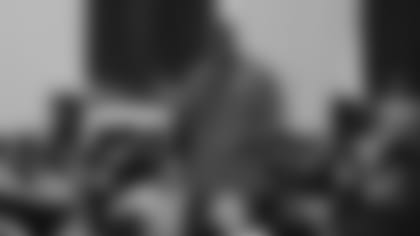 ](http://www.newyorkjets.com/photos-and-videos/photo-gallery/Eat-Right-Move-More-Event-Photos/557cb517-408d-4f6e-a758-f8b345a0407f)

Jets tackle D'Brickashaw Ferguson and Rose Tricario, the N.J. Department of Agriculture Division of Food and Nutrition director, today took part in an informative and fun nutrition education program at Paterson School No. 2 — the school's prize for being one of the past year's winners of the Eat Right, Move More contest.
The program is a partnership between the New York Jets, the Department of Agriculture, and the American Dairy Association & Dairy Council's Fuel Up to Play 60 campaign, which encourages New Jersey school children to take advantage of healthy foods in their school cafeterias and become more active. This year the emphasis was on schools that offer breakfast in the classroom. Additionally, school meal menus were reviewed and the schools had to show strong support and had demonstrated efforts to improve nutrition and physical activity among their students.
"Eat Right, Move More has done so much to help improve the health and wellness of students throughout New Jersey," said Ferguson. "It's such an honor to lend my support to each winning school year after year, especially today for School No. 2 here in Paterson."
"The Eat Right, Move More program encourages and rewards schools for reaching higher when it comes to nutrition and exercise initiatives for students," said Tricario. "We are very proud of School No. 2 for its achievements and commitment to making breakfast available to more students on a daily basis."
Earlier this year, N.J. Secretary of Agriculture Douglas H. Fisher and N.J. Education Commissioner Christopher Cerf urged schools around the state to offer the federally funded school breakfast after the start of the school day, ensuring them it could be considered instructional time. Since then, many more schools have adopted the program.
This is the seventh year of the Eat Right, Move More Program with Ferguson as spokesman. The campaign features posters of Ferguson in every school telling students, "Your school cafeteria offers a variety of healthy foods and low-fat milk to keep you going all day long. Fuel your mind and body with nutritious foods like Jersey Fresh fruits and vegetables. So let's get up and Eat Right, Move More!"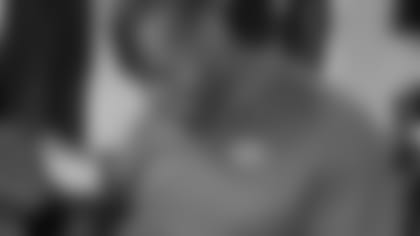 ](http://www.newyorkjets.com/photos-and-videos/photo-gallery/Eat-Right-Move-More-Event-Photos/557cb517-408d-4f6e-a758-f8b345a0407f)
The Eat Right, Move More grand prize winner was West New York PS No. 4, which received a $5,000 kitchen makeover grant and was honored on the field during a Jets game. The other winning schools that will receive visits from Jets players in the coming weeks are
■ Midstreams Elementary School in Brick Township
■ George L. Hess Educational Complex in Hamilton
■ William B. Cruse No. 11 School in Passaic.
The New York Jets take great pride in a long-standing, year-round commitment to our community. Programs funded by the New York Jets Foundation touch the lives of countless young men and women in the tristate area by promoting fitness, health and education, particularly in disadvantaged communities. Over the past 12 years, the Jets and their charitable foundation have contributed more than $12 million to a wide range of community-based causes.
From fighting childhood obesity through the Eat Right, Move More initiative to launching a football team at an urban high school to urging students to be active for at least 60 minutes every day, the New York Jets invest in programs that make a difference in the lives of others. In addition to our focus on youth development, the Jets support the efforts of the Alliance for Lupus Research and numerous established charitable organizations and causes sponsored by the NFL.
The Department of Agriculture's comprehensive school nutrition policy covers pre-kindergarten through 12th-grade students. The policy limits fat and sugar content in foods offered in a la carte lines, snack bars, vending machines and school stores and as part of on-campus fundraisers. More than 687,000 students in both public and private schools participate in the National School Lunch Program administered by the Department of Agriculture.