Breno Giacomini is a lunchpail guy through and through. And that's true even though in the last four months our new right tackle has started for a Super Bowl winner and visited the White House.
"I've already met the President so I've kind of put that in my back pocket," Giacomini told me this week about how he can bring his championship résumé as a Seattle Seahawk to bear on his new team. ""Really, I think the most important thing I can do to, I guess, show how we did it is to just go to work, show how I like to prepare, and just get better at something every day. Just go to work."
Breno will take the same approach to winning the fans' trust after they grew comfortable with the play of Austin Howard as the starter the previous two seasons.
"They had such a good right tackle, and I watched him play a bit, so I can understand that," he said. "But I'm just going to take my game and kind of gain the respect of the fans. That's my one goal, to really gain the respect from them and this locker room, too.
"And it's not by hoo-rah-ing everybody or anything like that. It's just by showing how I work and how I prepare. Yeah, I don't think they have too much to worry about. We have some great leaders on the offensive line and they've kind of taken me under their wing and put me on the right page there, so we'll be all right."
And even though full pads a-popping is still two months away at training camp, at least one player on the other side of the ball likes what he's seen.
"Going up against him at these OTAs, he's got strong hands," DE Muhammad Wilkerson told me. "I know if you don't get your hands on him first, it's hard to get his hands off you. He's got a nice strong grip. And he's pretty athletic for his size. That's always good."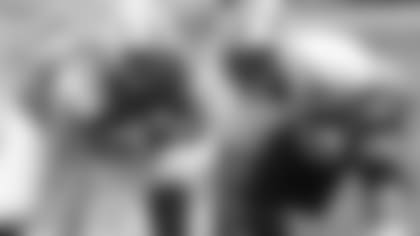 For a refresher, here is a comparison of Giacomini (above, right) and Howard (left) in a number of O-line metrics:
Austin, now a Raider (who coincidentally will be coming back to MetLife Stadium for the Jets-Oakland season opener), has a size edge and a slight advantage in youth, and he's kept his penalties down. Breno, on the other hand, is plenty big enough, comes in with playoff experience and has improved as a pass blocker to go with his hands-on approach in the run game.
As for changing from the Seahawks' to the Jets' line, he says there are subtle differences.
"In Seattle most of the time it was zone blocking," he said. "Here we have a little bit of everything. I like the changeup. But football's football, you know? Everybody just has different terms, maybe a little bit different technique. So far so good."
Giacomini is all business, but in the coming months before the Jets' trip to SUNY Cortland, Breno's business includes putting on a pair of football camps along with his former Louisville teammate, Gary Barnidge, now a tight end on Mike Pettine's Cleveland Browns.
"It's for my non-profit, American Football Without Barriers," Breno said. "Gary and I are the co-founders. It's just taking a love for the game and teaching kids in different corners of the world about it. We were in China two years ago and we went to Brazil this year. For our camps in the States, Gary's hometown is Jacksonville and his camp is in June, and my hometown is Boston and my camp is July."
This article has been reproduced in a new format and may be missing content or contain faulty links. Please use the Contact Us link in our site footer to report an issue.