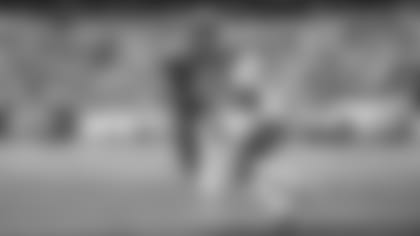 The absolute agony of defeat was not lost on Braxton Berrios.
"This is the NFL, you don't have time to think," he said about the pivotal fourth-and-2 play from the Tampa Bay 7-yard line. "That play was called. It had a two-way go and it went one way. I don't think about it one way or another."
What began with an economy of touches for Berrios --touchdowns, one running, one receiving on the Jets' first two possessions of the game -- ended in crushing disappointment.
"Obviously, everyone kind of explained that play," he said. "I trust 2 [that being No. 2, rookie QB Zach Wilson] in whatever he does. He sees the game from a different angle. My full trust is with 2, if he makes that call I'm riding with that call."
"That call" will no doubt be talked and written about for days, perhaps weeks, as the Jets roll over in their minds what might have been against the defending Super Bowl champion Tampa Bay Buccaneers and their QB -- the GOAT Tom Brady. Instead of picking up a first down on a play that could have been pitched to Berrios, and salting away a game they played so well in, Brady drove the Bucs 93 yards in less than 2 minutes with no timeouts to the game-winning TD, 28-24, on Sunday at MetLife Stadium.
To a man, the Jets repeated the mantra that there are "no moral victories" in the NFL, only wins and losses, as first-year head coach Robert Saleh said.
"We were a yard away from keeping the ball out of the greatest player in football history's hands. I'll take that yard every time," Saleh said of the decision to go for it.
But for Berrios, if anything, practically the entire 2021 NFL season -- which ends for the Green & White next Sunday at Buffalo -- has been something beyond a moral victory. The 5-9 wide receiver/kick returner from Raleigh, NC, proved his worth to the team beyond all expectations. Except his own.
Hot off a 102-yard kickoff return for a TD against Jacksonville last week, the Bucs (12-4) from the outset showed they would not allow Berrios to unleash another long return. They kicked away from him at nearly every opportunity, save for a single kickoff return Berrios took 27 yards. He fielded three punts and called for three fair catches. But then there were the early flashes -- a TD running and a TD receiving.
One of the watchwords throughout the season has been "opportunity," and the goal of grabbing it by the scruff of the neck and holding on. That's exactly what Berrios has been doing the past couple of games with the team's top three receivers -- Corey Davis, Elijah Moore and Jamison Crowder -- unavailable because of injuries and Covid.
Against Tampa Bay, Berrios' 1-yard run, after taking a handoff from RB Michael Carter (who later left the game with a concussion) and feinting a pass to Wilson, capped the Jets' 6-play, 72-yard drive to open the game. Later in the game, Berrios carried for 11 yards and a first down. Those were his only two rushing plays of the game.
Then early in the second quarter, after Tampa Bay tied the game, 7-7, Wilson skillfully engineered a 13-play, 74-yard drive, connecting with Berrios in the right flat on an 11-yard scoring toss. Berrios closed out the first half with 4 catches on 6 targets for 38 yards.
Berrios has shown impressive versatility in his fourth NFL season and has emerged as a threat on offense and as a return man. He joined the Jets after being claimed on waivers at the start of the 2019 season and before Sunday's game ranked in the top two this season in both kickoff return average (among players with at least 20 returns) and punt-return average (among players with at least 15 returns). He is an alternate for the Pro Bowl.
Berrios now has 47 receptions for 431 yards.
In a results-oriented business, however, only the result matters.
For the Jets and Berrios, this one stings.