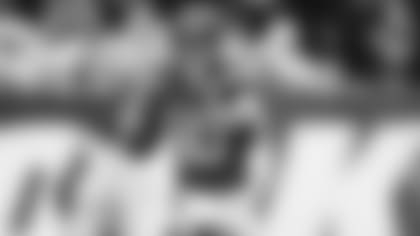 Braxton Berrios is familiar with the adage that hard work pays off.
The Patriots drafted the WR-PR in the sixth round in 2018, but he never played a snap for New England. He spent last season on injured reserve and was waived after the preseason. The Jets claimed him on Sept. 1 and he was immediately named the starting punt returner, but Berrios didn't see a snap on offense until Week 3.
Against the Raiders last Sunday, he took part in only three offensive snaps and took his opportunity and ran, literally. He saw one pass and caught it for a 69-yard gain that put the Jets on the Raiders' 1-yard line. His 58 yards after the catch are the most by a Jets WR on one reception since Quincy Enunwa went 62 yards against the Ravens in 2016. Per NFL Next Gen Stats, Berrios reached 20.95 miles per hour on his scamper.
"Football is a game of opportunities and the only thing I can do is be ready for my opportunity when it gets there," Berrios said. "There are a lot of positions where if you're on the field, you can make a play, especially on the defensive side of the ball, but it's different being a wide receiver. A lot of things have to go right for you to get the ball.
"The coaches always want to put us in the best opportunities to win each game, period. That's their job and in the earlier part of the year or now, if that involved me or not, that's not something I can control. That's not something I can get caught up in or worried about. My job is to help the team any way I can and when my opportunity comes, I'm here and I'm ready."
After a career game, Berrios remained even-keeled and level-headed. Seizing opportunities on offense and special teams is similar to what Berrios did in college at the University of Miami.
"I started freshman year, had a good span in the first 6-8 games," he said. "Whatever happened, I wasn't as involved the rest of the year. Sophomore year, I hurt my knee the first series of the first game. My junior year I started again, but I'm pretty sure I had 12 catches because the ball never came to me. My senior year, I had by far my best year and led the team in every receiving category there was in receptions, yards and touchdowns. I've been there. I've been almost waiting for three years and then having it finally coming to fruition in the fourth.
"It's about being patient and coming to work and understanding that when opportunities do arise, you do have to make the best of them. You can't get down and that's what I focus on. Not getting down, getting upset, pointing fingers. At the end of the day, I think everything can work out the way it's supposed to."
It's starting to come full circle for Berrios, who's taken a total of 55 offensive snaps this season and has a 10.1-yard punt return average on 15 attempts. Berrios' relationship with Coach Adam Gase dates to when Gase coached the Dolphins. Berrios attended Miami's local pro day during the pre-draft process where Gase's staff worked him out and Gase pounced when Berrios was cut loose by New England. 
"I was excited and he [Gase] was excited as well," Berrios said. "I was looking forward to working with him and what we could do together because there was a little familiarity there."