With Saturday's mandatory roster reduction to 53 looming, Todd Bowles has not ruled any players out for Thursday's preseason finale vs. the Eagles. QB Bryce Petty, who suffered a minor knee injury against the Giants, practiced Tuesday and Bowles said he was "optimistic" about his chances to play.
"It feels good. Like I said, we're just going to almost take the reps out on the field and put them in the training room and make it 100 percent to try and be back," said Petty on Monday.
The Jets were on the field early in Florham Park before their annual kickoff luncheon at Cipriani Wall Street. While Petty received good news on the injury front, veteran OLB Lorenzo Mauldin did not practice and his back ailment could eventually lead him to injured reserve.
"We'll see how he is feeling, if he is actually getting better or not, and I'll hear what the trainers and everybody else has to say and we'll take it from there," said Bowles during a conference call.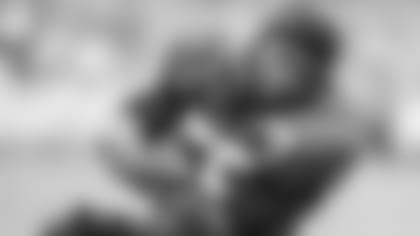 Mauldin hasn't played a snap in the preseason as the Jets have rotated a number of linebackers through across from Jordan Jenkins. That group has included veteran 'backers Josh Martin, who has collected two sacks, and Freddie Bishop along with fifth-round pick Dylan Donahue. Mauldin totaled 6.5 sacks in his first two seasons, but he was limited to 11 games in 2016 as an ankle injury at the end of the year forced him to the sideline.
Veteran CB Morris Claiborne was able to take part in some activities today. Claiborne, who injured his shoulder in Week 2 vs. the Lions, did not participate in team drills last week and did not suit up against the Giants. With Claiborne out, second-year corner Juston Burris started on the outside and intercepted a pass in the first half.
"He's coming along. He's had some good plays and he's got some things he has to work on," Bowles said of Burris. "But he's getting better every day."
NotesThe eye laceration veteran S Rontez Miles suffered against the Lions was "pretty severe" according to Bowles and he has had some trouble seeing out of his eye… Bowles declined to say whether he intends on playing Josh McCown against the Eagles… Second-year ILB Darron Lee was asked his reaction to McCown being named the regular season starter. "We're all behind Josh 100 percent and we're looking forward to going out and trying to win ball games with him," Lee said. "Congrats to Josh, but we're very excited as a team."