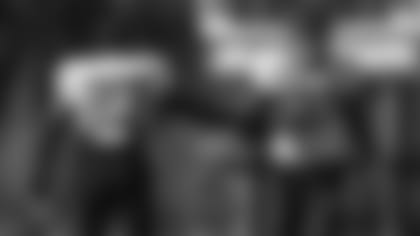 With Bless Austin missing Thursday's practice to have an MRI for a neck injury, Jets Head Coach Adam Gase said "it's all hands on deck" for his suddenly beleaguered cornerback position as the Jets continue preparations to fly to Los Angeles and play the Chargers on Sunday.
Gase said he wasn't really sure when Austin got his injury at Wednesday's practice.
"We weren't in pads so I'm not really sure what happened," he said. "They just told me this morning that something was going on with his neck."
Austin has started seven games this season, played in eight, and has averaged almost 60 defensive snaps a game including Denver, when he injured his calf early, and Arizona, when he sat out the next game. He's given up some completions, yet he's also made some outstanding plays against both the pass and the run.
He's not out of the Chargers game yet, but his uncertain availability has caused Gase and his staff to start "testing some guys out and see who can do what." Among the candidates:
Fifth-round rookie Bryce Hall made his NFL debut in a Monday night game against the Patriots with 39 defensive snaps, finishing the game for Pierre Desir at LCB. Hall looms large in the Jets' secondary plans for Sunday and beyond. Gase said Hall possesses "length, ball skills, confidence for sure. I mean, he's one of those guys where when you watch him practice and play, no matter what happens, he's the same guy every snap. I'm excited to see him going forward, see how far he can grow in the next seven games."
For Austin's spot, available active-roster players are Arthur Maulet, who came off IR for the Kansas City game and played 28 snaps on defense vs. the Patriots; Javelin Guidry, the free-agent rookie who's played in five games, almost exclusively on special teams; and Lamar Jackson, also an undrafted free agent who saw heavy duty on defense in Games 4-6 but in the last three games has played no defense and 22 snaps on specials.
Then there is Corey Ballentine, acquired off waivers from the Giants last week after playing 22 games with 4 starts for Big Blue in 2019 and this season.
"We're really trying to get him caught up to speed," Gase said of Ballentine. "We saw him as somebody that could maybe contribute on special teams quickly. We might need him to learn corner a little quicker. But that's what we saw as a starting point, a guy, a skill defensive position being able to help on special teams. We're always looking for guys like that."
Brian Poole? The coach said he's on IR and done for the season after shoulder surgery. Pierre Desir, who was released Tuesday? "We'll see what the personnel guys say" about bringing him back.
As for moving a safety, say, third-round rookie Ashtyn Davis, from safety to corner, Gase said his staff has contemplated the thought, but. ...
"It's been brought up before of possibly throwing him out there," Gase said. "I think right now it's all hands on deck. I think we'll try to try to keep him and Marcus [Maye] back there as much as we possibly can. A lot would have to happen for him to go play corner."
Yet even before Austin's injury, Gase touted Hall and his younger CB corps for the final seven games. And today, the coach didn't blink when asked about his youth movement facing big-armed rookie QB Justin Herbert and the Chargers' top-10 passing offense.
"Let's go, man," he said. "You've got Keenan Allen, Mike Williams and Hunter Henry to worry about. We'll be good to go."
See the Best Photos from Thursday's Practice During Week 11