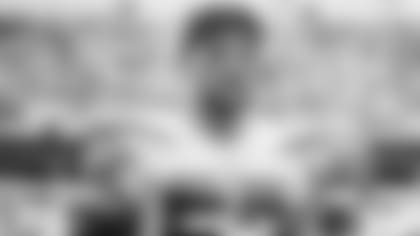 When the NFL injury bug lands, it bites. But the bug has done nothing to damage the spirits of LB Blake Cashman as he heads into his second season as a member of the Jets.
"I was focused on rehabbing my shoulder," Cashman said at a recent session of Jets House in Manhattan about how he spent the second half of the year on Injured Reserve. "And that's kind of still my main focus. I'm spending most of my offseason up here, so I'll be at the Jets facility. I think that's great. It's good to get away, but I get to be around our staff to get me healthy and stronger and get me prepared for when we start our offseason program.
"I understand as a young player, going from year one to year two, you're expected to make a big leap, so I definitely want to put myself in the best position possible to do that."
Cashman, the fifth-round rookie out of Minnesota, was in good position for a good part of year one. With the August injury to Avery Williamson and then C.J. Mosley's groin injury in the opener, the Jets were suddenly looking for ILBs to play alongside Neville Hewitt. And as head coach Adam Gase paraphrased his Week 2 directive: "Cash, here you go. This is your first professional start. You're in."
And for the next six games, Cashman looked more weathered veteran than rattled rookie. He averaged 67 defensive snaps/game and five starts in that stretch, chalking up 38 tackles, 3.5 tackles for loss/no gain, his first pro half-sack at Cleveland and a stripsack fumble recovery at Jacksonville.
Then in practice the week of Game 8 at Miami, he injured his shoulder. This was a little more serious than the two torn labrums he played through with the Golden Gophers in 2016, and so he became the latest Jets inside 'backer to climb on IR in '19.
But Cashman doesn't play the what-if game. He was happy with his latest surgery and is planning on doing extra shoulder work after every mandatory lift in the weightroom. "They know that they're going to add a little bit more to my plate," he said, "just to have good maintenance throughout the season."
And he's optimistic that on the field, he, his defense and his team can pick up where they left off in the second half of the season.
"We finished the second half 6-2. We were banged up so much, but I think guys stepped up and they did their job pretty well," Cashman said. "I think we have all the pieces it takes to be a playoff contender. But it's important that you stay healthy and then you execute, because it doesn't matter what your record is. Any given Sunday, anytime you play, you can lose a football game. As long as we execute and stay healthy, it'll be a promising year."