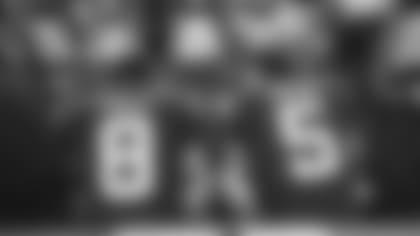 It's been a different kind of preseason as far as how the Jets' quarterbacks are being used.
Sam Darnold, in three starts with limited work, has engineered three touchdowns on nine drives. No surprise there, or with experienced backup Trevor Siemian coming in behind him in all three games and producing a TD and three field goals.
But for the first time this millennium, the Jets have played four QBs in each of the first three summer games. Green & White holdover Davis Webb and Luke Falk, who was drafted by Tennessee and spent the 2018 regular season with Adam Gase's Dolphins, have split most of the second-half offensive plays this summer. And Thursday against Philadelphia, Webb and Falk could see the majority of the reps before final cuts are made Friday and Saturday.
"I feel good. I feel like I've consistently gotten better," Falk said after Tuesday's practice at the Atlantic Health Training Center. "There's still a lot of things I've got to work on — I think every year you see that. But I'm just going out there trying to do my job, trying to help our team the best way I can, and it's been a fun process."
"I think my job is just get us in the end zone, make the right play, make the playcaller right," Webb said. "I haven't done a good enough job of that so far. But I've done some really good things, especially in practice and some plays during the games. So hopefully it all comes together in the last one."
Falk mopped up in the first two preseason games, then came in before Webb and worked one series vs. the Saints. His numbers — two touchdown drives and no takeaways vs. Webb's no TDs and two interceptions vs. the Giants — have been better, but as Gase noted, many variables come into play in the preseason.
"Some of the days of practice have been good. He's had a couple of rough days as far the game play goes," Gase said specifically of Webb. "He's had some decisions that were really good where the result wasn't exactly what he wanted or what you're looking for, but the decision-making process was right. It was just one of those things where you need other guys to do their jobs sometimes but when you're the quarterback, all that gets deflected to you.
"That's why I think for him, these games are big. There's a lot of playing time, you've got a chance to get into a rhythm, you're not in and out, you've got more than two series. This is going to be a good game for him."
Here are key drive metrics for all four Jets QBs from the first three preseason games:
Table inside Article

| QB | Drives | Yds/Drv | Pts/Drv | TDDrv% | TODrv% | PntDrv% |
| --- | --- | --- | --- | --- | --- | --- |
| Sam Darnold | 9 | 29.8 | 2.1 | 33.3 | 11.1 | 55.6 |
| Trevor Siemian | 13 | 19.9 | 1.2 | 7.7 | 0.0 | 38.5 |
| Davis Webb | 10 | 16.2 | 0.3 | 0.0 | 20.0 | 40.0 |
| Luke Falk | 7 | 19.3 | 2.0 | 28.6 | 0.0 | 57.1 |
After final cuts are made, might the Jets keep four QBs heading into the opener vs. the Bills? It's not unheard of. They kept four active the entire 2009 season in Mark Sanchez, Kellen Clemens, Kevin O'Connell and Erik Ainge. And Gase said a week ago that he's "always been a fan of the more quarterbacks you can keep, the better," and said the Dolphins had four on the roster for a month or so last year.
But reality suggests Friday could be moving day for one of the Jets' backups.
"That's the NFL. Every day feels like that," Webb said. "There's plenty of people that know other people in this league. If Coach knows a coach at Indy or Detroit ... people talk and at the end of the day everybody watches the tape. It depends on how you play in these preseason games, and Thursday's just another one of them, it's the last one, and you want to play your best one."
"You have one guaranteed opportunity right now, and that's playing on Thursday," Falk said. "And you go out there and make the most of it."