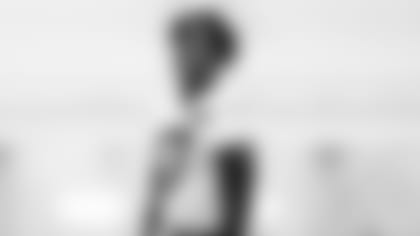 Jets wideout Garrett Wilson, the 10th overall pick of last week's draft, learned an NFL lesson really quickly at this weekend's rookie minicamp.
It had to do with Garrett, the Ohio Stater by way of Texas high school ball, saying shortly after being selected by the Green & White that he hadn't yet heard from his new quarterback, Zach Wilson.
"I actually was mistaken," Wilson said Saturday after the second practice of the Jets' rookie minicamp. "We hadn't spoken yet, but he reached out to me with a text. My fault. I hadn't seen all my messages yet when I said that. I made sure I shot him a text right after. And we've been texting a few times since then."
So pro pointer No. 1: "You've got to be on the same page with your quarterback. You can't have that up in the air, for sure."
Soon enough, Wilson-to-Wilson will be offering up some lessons of their own for opponents trying to cover the second-year passer finding his rookie down the field. One of those will be in trying to cover the WR while he's, well, up in the air. He has a knack for acrobatic catches, and reporters wanted to know where that skill came from.
Short answer: basketball.
"It's just the constant jumping and getting up and down the floor. It's so unpredictable, it's not planned out. It's not like football, where you know where you're going to break," said Wilson, who received Division I basketball scholarship offers coming out of high school and whose father, Kenny — he of the heartfelt video that his son saw for the first time late on draft night — starred at Davidson and played in the NBA. "And it's just competing year-round, playing sports since I was a young kid, I just think it helps you."
Plus Wilson has very good speed at 4.38 seconds in the 40. Still, there is his size, good enough at 6-0 and 183 pounds and with 76½-inch wingspan for the NFL but far from a 6-4 monster with an 80-inch catching diameter. Some fans and reporters may still have to be convinced Wilson can stand out at this level.
Jets head coach Robert Saleh doesn't need convincing.
"Obviously, they come in all shapes and sizes. I'm not sure what Stefon Diggs' size is," said Saleh, who sounded as if he may indeed know that Buffalo's No. 1 WR is 6-0 and 191 with a 75¾ wingspan, "but a lot of it has to do with that mental makeup. A lot of guys play bigger than they are, a lot of guys play smaller than they are. What's special with Garrett is that he does have tremendous body control and range in regard to his length. He plays bigger than his measured size."
For now, as Saleh mentioned Friday, the rookies will be eased into action with the veterans in a few weeks as Phase 2 of the offseason conditioning schedule ends and Phase 3 begins. And that means Wilson will need to bide his time, not get too antsy about not cutting loose with his pass-catching skills just yet. And, of course, check his texts.
But in the meantime, he's good with making his new green and white wardrobe look good.
"I love playing and being out there. But not competing and not being hurt, not doing the competitive stuff, it's hard for me to watch, being the way I am," Wilson said. "But just putting on the threads, it's starting to sink in a little bit, finally.
"This is a great environment, a good place to be a young player at to chase your dream. I've met some dudes just walking the rest of the facility. You can tell they're just hungry. And I'm excited to be here."
See the 2022 Jets rookies on the field for the second practice during Rookie Minicamp at 1 Jets Drive.