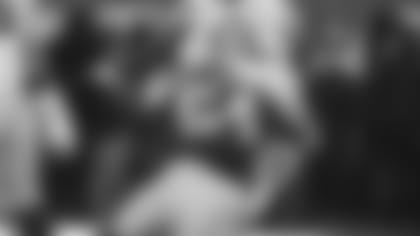 For the blink of an eye late in the first quarter, it looked as if the Jets might scrap back into Sunday's game against the Bills. For a heartbeat. For a ...
"Yeah... half a second ... yeah," LB Avery Williamson agreed with the time frame. "I wish somebody could've jumped on it."
The half-second was the time between Williamson jarring the ball out of Buffalo WR Zay Jones' outstretched hands in front of the goal line ... and Bills TE Jason Croom cradling the pigskin in the end zone. Instead of Jets recovery, touchback, ball at the 20, it was Buffalo recovery, touchdown, Bills up, 14-0.
In truth, though, a Jets fumble recovery, which would've been their first takeaway in four games, probably wouldn't have turned the tide as the visitors from Western New York added 17 more second-quarter points onto that lead before the hosts could even get on the scoreboard.
And Williamson, despite 11 tackles and the Green & White's only forced fumble in these last four games, was left pondering the questions that come up at times such as when the Jets, after holding QB Brock Osweiler and the Dolphins to 168 yards and a pair of field goals, gave up 451 yards and seven scoring drives to Matt Barkley and the Bills in the 41-10 loss to fall to 3-7.
"I was very shocked," Williamson said of comparing the Jets defense of a week ago to the D on this day. "It's pretty mindblowing for us, our defense, to give up that many points. I feel bad because, me being a part of it, It's definitely embarrassing."
It was also "embarrassing," he said, to give up that many yards to the Bills, who had struggled all year on offense and were starting their fourth QB, Barkley, whose last previous starts were the last six games of the 2016 season for the Bears.
"I mean, I guess you could say they were aggressive. They wanted to jump on us fast and they did. They had a fake punt," he said. "Yeah, they had an aggressive mindset and took advantage of some situations."
Now the Jets have to take care of their situation, with a bye week to get back on track to play New England in two weeks and the final five games on the schedule after that.
"This is going to sit in our stomachs for two weeks now," Williamson said. "We can't bring it into the Patriots week. The bye week is definitely going to be a rough one. We've got nothing to do but sit and think. It's definitely a sour mood.
"Guys are going to be down, but we've got to make sure we're staying on top of everybody, make sure the focus is still there. There's still six games left in the season. There's a lot of ball left to play."