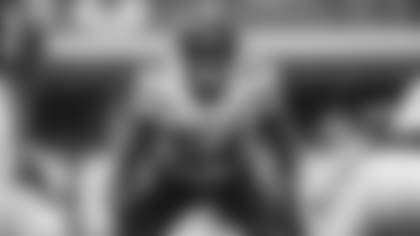 Like a shark sensing blood in the water, the Jets' defense is ready to pounce on a banged-up Broncos offense on "Thursday Night Football.
"We want to have that winning feeling again," LB Avery Williamson said. "We haven't had that in a while. We're ready to just go out there and bring some good light to this team, so we're definitely really hungry and ready to go out there and execute."
Denver will use its third QB of the season in the Week 4 primetime matchup when Brett Rypien makes his first NFL start. Williamson said it's difficult to prepare any Thursday night game because of the quick turnaround and particularly for Rypien. He was named the Broncos starter on Tuesday and only played 15 snaps in their loss to the Buccaneers in Week 3, so the Jets watched all 91 of his preseason snaps in 2019.
"It's one of those things where you have to go out there and see what he does in the first few plays of the drive," said Williamson, who added, "We have an idea what they want to do and we feel like they'll show their hand in the first five-to-10 plays. We just have to adjust from there."
Williamson believes the Broncos will try to establish the run against the Jets defense, which ranks 24th in the NFL, allowing an average of 133 yards per game. Denver, however, ranks 29th in rushing offense (84.3 yds/g) and, according to ESPN, last in rush block win rate at 63%.
"They have two good running backs in Melvin Gordon and Phillip Lindsay," Williamson said. "They're talented running backs and they're going to run the ball. They definitely have running backs that can get the job done and they're a good one-two punch, so we have to be prepared to make this team one dimensional."
Williamson played against Lindsay and the Broncos his first year with the Green & White in a Jets 34-16 victory, which was QB Sam Darnold's first win at MetLife Stadium. Lindsay, who missed the last two games because of turf toe, had 61 yards on 12 carries (5.1 avg) in that game and Williamson led the defense with 9 tackles. Williamson's 120 tackles in 2018 led the Jets and he picked up where he left off after missing all of last season with a torn ACL. Williamson finished with 9 tackles against the Colts in his first start in more than a year.
"I feel like I did pretty solid," he said. "It wasn't a perfect game. I feel like I adjusted as the game went on, but the main thing is I want to clean up my tackling and my angles to the ball. I have to make sure I'm doing a good job of that because that was my first time tackling since last preseason, so it's been awhile. I just have to make sure I do that and just fly around and hit people."
Williamson, with smile that stretches from ear to ear, is ready to "go out there and do it again" under the bright lights.
"Everybody is watching, that's the biggest thing," he said. "That's the exciting part that it's a national game. There's going to be a lot of people tuned in especially with not a lot of sport going on. I'm super excited for it. I'm just excited to be back on the field, personally, but also being able to play in front of people all over the world. I'm super excited and ready to go out there and get a win."
He added: "It's a long season, so getting a win would be huge for us and get some good energy back in the building and get us started on a good note."