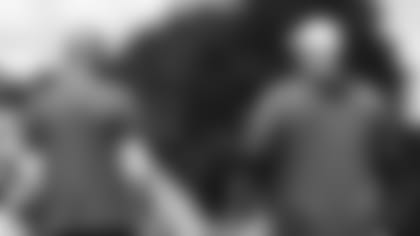 On Tuesday at 4 p.m. ET, the Jets have to get their roster down to 53 players. While an NFL roster is never final, Tuesday is a critical deadline for Jets GM Joe Douglas, HC Robert Saleh and their respective staffs.
Saleh told reporters Sunday: "There are a lot of spots that are close and I know Joe is grinding his butt off to find the fine line that determines which ones make it and which ones don't. As we go through this, these are the hardest parts, the whole hardest part of camp because you know these guys have put everything on the line and you just want them to be successful. There are a lot of discussions to be made between now and tomorrow."
During Friday night's preseason finale between the Jets and the Eagles, Douglas was interviewed in the third quarter of the WCBS-TV broadcast. In addition to studying his own roster, Douglas and company have to be prepared for 800-plus players around the league who are about to spring free.
"We've put in a lot of work over the last few weeks," Douglas said. "It's been great to have preseason ball and we've really got two draft classes to catch up on preseason tape. Our pro scouting staff, headed up by Chad Alexander (director, player personnel) and Greg Nejmeh (director, pro personnel), they've done a fantastic job of highlighting some quality guys for us to take a look at leading up to cuts."
Only Jacksonville has a higher priority than the Jets to claim players, but Saleh says the wire isn't a game of fantasy football. There is familiarity with the players who've spent OTAs, minicamps, training camp and two preseason games with the Green & White.
"It's like a second draft, right," Saleh said of the wire. "It's still a hard thing to do, to be able to just claim somebody off another (team's) roster because of the amount of work you have put in with your guys. More often than not, you trust the work you've put in with your guys and you want to see them evolve especially with the investment you've already made. The wire is a great game to play, but it's also a lot harder than people realize in regards to claiming people and letting go of somebody you've interested so much in."
The Jets have taken a big hit at defensive end the last two weeks with the season-ending losses of Carl Lawson (Achilles) and Vinny Curry (rare blood disorder). In addition to those two, Ronnie Blair (hamstring) and Jabari Zuniga (knee) haven't been practicing. Hours after Sunday's practice concluded, both NFLN and ESPN reported the Jets had acquired DE Shaq Lawson from the Texans.
Douglas said: "Our pro scouting staff is scouring rosters right now. Unfortunately injuries are a part of football. It's tough to lose a person and a player of the caliber of Carl Lawson, but our D-line group is a strong group. I know that this staff and this group of players is wired to handle this adversity."
The Jets are in a good position at nickel with rookie Michael Carter II and Javelin Guidry. In preseason action, Carter II was credited with 4 tackles while Guidry had a defensive stop, a pass defended and an assist on special teams. The second-year pro also had an interception of rookie QB Zach Wilson during the Green & White practice at MetLife Stadium.
"We've got two legitimate starting nickels and we've got to find a way to get them both on the football field," Saleh said. "Michael's done a great job since he's walked in here, you can't ask for much more out of a fifth-round guy. He's going to have a long life in the NFL for sure."
Douglas pointed to the cornerback and wide receiver groups as to where the discussions might be the most extensive. Bless Austin and Bryce Hall have received the most work on the outside with the first team and there has been a great battle at wideout down the depth chart below Corey Davis, Elijah Moore and Jamison Crowder.
"I think this camp especially has had a great battle at wide receiver," he said. "We have a lot of young talent and players that have really been able to stand out. I think you also see it at cornerback. We have a lot of young guys we've taken in the last two years and they've been competing, working hard to go up against each other every day. I know that there's going to be tough decisions all over our roster, but especially at those two positions."
Douglas and Saleh share a similar vision and they'll be detailed in their approach. Two weeks out from the regular-season opener in Carolina, it's movement time.
"Coach and I are very much in alignment the way that we see how teams should be built and what we think winning football is all about," Douglas said. "Everyone sees Coach Saleh on the sideline — the energy, the passion. I think what people don't see every day is how thoughtful he is, how even-keeled, his demeanor. Nothing rattles Coach. Him and his staff, the energy that they're able to bring and then the accountability and ownership they bring in each individual at each position group has just been outstanding."
Jecetera
The following Jets did not practice Sunday: LT Mekhi Becton, DL Ronnie Blair, S Ashtyn Davis, T Chuma Edoga, CB Justin Hardee, TE Ryan Griffin, S Lamarcus Joyner, WR Denzel Mims and RB La'Mical Perine. Head coach Robert Saleh is "very confident" about the Week 1 availabilities of most of the players who are banged up (Davis' expected return is Week 2). CB Brandin Echols (hip) participated in the session.
The Jets held a short non-padded workout and the focus will soon shift to Carolina on the field.
"We put the preseason to bed this morning," Saleh said. "We'll have a good practice of just ones and ones. Our offense versus our defense. Then from there, coaches' attention is all on Carolina."
Our final word goes to Saleh, who was asked about the Jets-Panthers QB storyline. Jets QB Zach Wilson, the No. 2 overall selection in April's draft, and Panthers QB Sam Darnold, who spent his first three pro seasons in New York before being traded to Carolina this offseason, will lead their respective clubs in Week 1.
"You know, the NFL does have a sense of humor, but we're going to eventually have to play them anyway. So, in the long run it didn't matter"
See the Best Images from Sunday's Preseason Practice at 1 Jets Drive