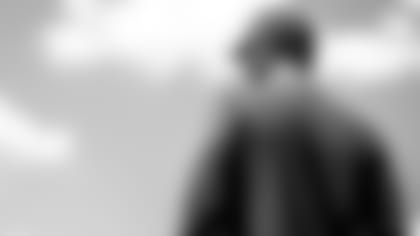 In six days, the Jets will open the regular season against the Buffalo Bills at MetLife Stadium. Adam Gase might feel differently later in the week but today felt rather routine for the Green & White's new head coach.
"Right now, it's just a Monday. We're having our first meeting, kind of covering a few things and when we hit Wednesday, when we go to practice and kind of really get into the game plan and the details of what we're looking to do, that will probably hit me a little different," Gase told reporters.
The Jets are a healthy group as both WR Robby Anderson (calf) and CB Trumaine Johnson (hamstring) are "trending in the right direction" for Week 1 action. Johnson is the top corner of a five-player group that includes third-year pros Nate Hariston, acquired last week in a trade with the Colts, and Arthur Maulet, a third-year pro from Memphis. Darryl Roberts is expected to start across from Johnson with Brian Poole manning the nickel spot.
"I feel better than I did 10 days ago, 15 days ago. Getting guys healthy and more experience with some of the guys that we've added and some of the guys that have actually been practicing," Gase said of the corners. "So, I think the personnel guys have done a great job as far as trying to find the guys that can fit into what we're doing and guys with experience and young guys that we can add just in that whole secondary group. I think any time we add guys that have been part of teams that have won, it's always a positive thing for us."
The Jets valued position flexibility in the making of their roster. Third-round pick Jachai Polite was released on Saturday while Kyle Phillips, an undrafted defensive lineman from Tennessee, earned his spot on a loaded defensive line.
"We had a certain about of guys we wanted to keep and the flexibility at the position. If you are a guy who can play outside linebacker/D-end and D-tackle, that gives us a lot of flexibility. It gives Gregg (Williams) a lot of flexibility," Gase said. "When we had certain guys who only could play outside linebacker and can't do other things, that's where other guys can get themselves on trouble on the roster construction."
The Jets probably won't be asking Kaare Vedvik to punt anytime soon, but the first-year pro is set to handle the kicking duties against the Bills. Vedvik, a first-year pro from Marshall who connected on 12-of-13 on field goals during the past two preseasons in Baltimore before going 1-of-4 with the Vikings this summer, was acquired off of waivers Sunday from Minnesota.
"This guy has a lot of talent and he's done a lot of good things in some of the preseason games he's played in," Gase said. "We have guys who have actually been with him before, so that's always a helpful tool to use. We get in that kind of situation, whoever is out there, I'm always going to have confidence. That's just kind of my mindset, that's how I think."
In addition to Vedvik, the Jets made another significant special teams acquisition over the weekend. They opted for a new punt returner/backup slot receiver, claiming Braxton Berrios from the Patriots and releasing Greg Dortch.
"He's a guy that, historically coming out of college, was really good at getting open in the slot," Gase said of Berrios, who had 100 catches and 14 receiving touchdowns at Miami (FL) from 2014-17. "He's had good experience as far as punt returner goes. There's a lot of confidence there."
Berrios , a 2018 sixth-round pick of the Pats, spent his entire rookie season on injured reserve and will get a fresh start with his second team.
"When you're a guy that's played in New England, it's kind of a similar system," Gase said. "This is kind of a break off of what they've done. Just with my time with Josh (McDaniels), he's influenced me a lot in my career as far as what we do offensively. So, when you're a guy that's played in that offense, there's a fit with our offense."