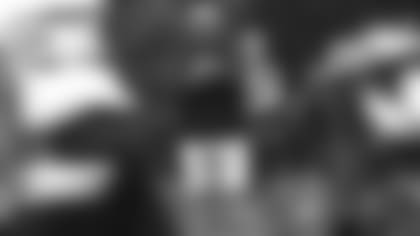 Throughout the offseason, NewYorkJets.com reporters Eric Allen, Ethan Greenberg and Randy Lange will each give their predictions to a series of questions regarding this year's Jets.
Today's question: Are the Jets more likely to trade up or trade down in the first two rounds of the NFL Draft?
EA: With Las Vegas in sight, Joe Douglas is holding all the cards. After moving up last April to draft Alijah Vera-Tucker last April, Joe D. has some queens and jacks that could become aces down the line. If Douglas keeps all four of his picks (No. 4, No. 10, No. 35 and No. 38), he expects those players to be "impact" performers for the Green & White. Douglas, who landed RB Michael Carter in the fourth round in 2021, said in a perfect world your first-, second- and third-round picks all would become starters. The Jets have five picks in the first three rounds and in a draft loaded with quality talent, the Jets could bring in a haul bigger or set themselves up with more capital in 2023. Will No. 10 or No. 38 come into play? Is there a team looking to get to 10 to get a QB? That No. 35 spot means you could get your top player on the board in Round 2 (the Jets did that last year with Elijah Moore) and still could move off No. 38 with a cluster in mind later in the second. If the Jets love a player who's dropping in the first, they could certainly jump back into the latter half of Round 1. But we've got a few days left until the proceedings commence, so let's see if the landscape at the table changes before then.
EG: My hunch says trade back because of the 10th overall pick. Teams may be eyeing that spot for a place to trade up and Joe Douglas has shown no qualms about trading back. This year's draft has the blueprint to be more unpredictable than other years, especially with the quarterback class. It feels like draft pundits are having a difficult time gauging how early guys like Pitt's Kenny Pickett and Liberty's Malik Willis will get drafted. If one or both are on the board when the Jets are on the clock at No. 10, will a team want to trade? Douglas, however, has done shown he'll trade up -- he went up nine spots in last year's draft to select Alijah Vera-Tucker No. 14 overall. With two picks at the top of the second round, I could see Douglas trading back into Round 1 to tab a player.
RL: Setting the table, Joe Douglas and his draft team have presided over the past two drafts. They've made four trades involving draft choices in the first two rounds of those drafts, two involving frontline players (Jamal Adams, Sam Darnold), two involving only picks. In '20 the Jets traded down from No. 48 with Seattle (not the Adams swap) and took WR Denzel Mims at No. 59. In '21 they sent three top-86 picks to Minnesota for Nos. 14 and 143. At No. 14 they grabbed G Alijah Vera-Tucker. Therefore ... Trader Joe and the Jets, at the moment holding four picks (4, 10, 35 and 38) in the top 40, are likely to trade one of them. Track record says it's a coin toss as to up or down. I'll say if the Jets get one of those positions everyone says they're going for in the first round (edge, CB or WR), they'll trade down. Very scientific. And of course a big-name trade involving more than one of those first two rounds of picks makes all of this just idlepredraft talk.