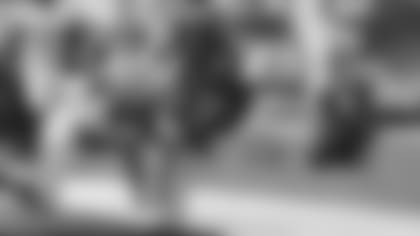 Throughout the offseason, NewYorkJets.com reporters Eric Allen, Ethan Greenberg, Randy Lange, Caroline Hendershot and John Pullano will each give their predictions to a series of questions regarding this year's Jets.
Today's question: Are the Jets and Bengals poised for another high-scoring game?
EA: Last Halloween, the Jets and Bengals combined for 829 yards and 65 points in a 34-31 thriller captured by the Green & White. While the Bengals return their top four playmakers, the Jets feature new toys at the skill positions including Garrett Wilson, the reigning Pepsi Zero Sugar Rookie of the Week; Breece Hall, who scored his first pro TD in Cleveland; and Corey Davis, who missed the 2021 meeting with a hip injury; plus a revamped tight end room. QB Joe Flacco can become the first Jets' signal-caller to open the season with three consecutive 300-yard passing games and the NYJ posted 31 points on an above average Browns defense. You get the sense that Joe Burrow and the Bengals will break out at some point soon, but I don't think this is the week. The Jets defense will be better and the Bengals are good on that side of the ball, so I see this game being played in the 20s — not the 30s.
EG: I think this game will be entertaining, but not as high-scoring as last year. The Bengals enter this game looking for their first win and trying to rectify their offensive woes. Cincinnati has firepower on offense between QB Joe Burrow, WRs Ja'Marr Chase and Tee Higgins, who had 97 yards last year against the Green & White, and Pro Bowl RB Joe Mixon. The Jets offense, however, is better equipped to go toe-to-toe with Cincinnati's offense despite the Bengals averaging 18.5 points per game this season. Jets WR Corey Davis did not play in last year's matchup, and rookies Garrett Wilson and Breece Hall were in college. Defensively, the Jets are better than the last time these teams played, but are ironing out the communication kinks with four new starters in the secondary. There's no doubt Sunday's game will be fun, but last year's game was lightning in a bottle.
RL: Based on the Bengals' last 130 minutes of football (including the 10-minute OT vs. Pittsburgh) and on the first 58 of the Jets' most recent 60 minutes, you might be inclined to say no, this game will not provide a profusion of points. It will be a close-to-the-vest fight to put just enough on the MetLife big board to go home with the victory. On the other hand, the Jets are feeling good in producing 31 points and 402 yards with their closing kick at Cleveland. Joe Flacco, in possibly his last start in a while, is tapping into the Green & White's improved skill-position talent more each outing. And the Bengals are searching deep within to find that offense that Jets DC Jeff Ulbrich says is "scary ... they just have so many weapons and the quarterback that can facilitate it all." So 31-30 at Cleveland plus 34-31 over the Bengals at MetLife last year, divide by two, and we have a 63-point game, aka a a high-scoring affair.
CH: Last year's matchup went down to the wire with a 34-31 victory for the Jets, and I think this year's matchup will be similar. Although the Bengals have fallen behind by 17-3 in each of their first two games, QB Joe Burrow threw for 338 yards against Pittsburgh and 199 yards against Dallas. With all of the offensive weapons the Bengals have and Burrow at the helm, I think it's just a matter of time before those plays start converting to scoring plays. The Jets are trending in that direction as well with QB Joe Flacco becoming the third Jet with 300+ passing yards in each of the team's first two games of a season. Not only did Flacco play well, but the rookies showed that they're ready to rise to the occasion. RB Breece Hall recorded his first receiving touchdown while WR Garrett Wilson scored two touchdowns ,including the game winner. I think both teams will find the end zone a lot this game and the winner will be whichever team makes the fewest mistakes.
JP: Yes. The Bengals offense is due, and the Jets offense is on the way up. Cincinnati heads to MetLife Stadium 0-2 and averaging 18.5 points per game with a similar skill group that averaged 27.1 and scored fewer than 20 points three times last season. They were the only offense with two 1,000-yard receivers – Ja'Marr Chase and Tee Higgins – and a 1,000-yard rusher – RB Joe Mixon. Too much talent to struggle again. "When you are 0-2 you are going to come out swinging, that is what they are going to do," CB D.J. Reed said. The Jets unlocked their offense against Cleveland by finding players short and allowing them to create in space. QB Joe Flacco joined Kansas City QB Patrick Mahomes as the only other player with 300+ yards, 4 touchdowns and 0 interceptions in a game this season. According to PFF, 19 of his completions were short (0-9 yards) or behind the line of scrimmage leading to 96 YAC, nine first downs and two touchdowns. Sunday may come down to whoever has the ball last.