Michael Vick has made a decision. And the Vick Verdict is No. 8.
That's the number of the uniform Vick will wear this year as a member of the New York Jets. That's 8 as in V-8.
Vick's decision is not official yet, but he tweeted Jets fans Sunday asking them to help him choose between his two "finalists," 3 and 8.
Later on Instagram he thanked Jets Nation for the assistance along with a computer-generated photo of him in a No. 8 Jets white uniform. We'll let you know as soon as the number choice becomes official.
Our newest QB has been closely associated with No. 7, of course. He wore it in high school, at Virginia Tech, in his first six seasons with the Atlanta Falcons and the past five years with the Philadelphia Eagles.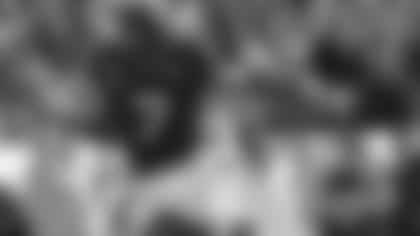 But Vick has low-keyed the number issue since signing with the Jets, who already have a No. 7 in now second-year signalcaller Geno Smith. As Vick said on his conference call with team reporters in March, "Geno is going to wear No. 7. I'm changing my number." To which number? "It's undecided. Who knows? I'm going to come up with something within the next week."
He needed more than a week but apparently went back to the last number he wore before 7, from his grade school days in Virginia.
When players move, number intrigue often follows. There was the issue of what number WR Eric Decker, 87 in Denver, would wear. (He and Jeff Cumberland came to an agreement, with Decker getting No. 87 and Cumberland downshifting to 85.)
And RB Chris Johnson's number for his first season with the Green & White still remains unsettled. He wore 28 in his six seasons with the Titans, but Curtis Martin wore 28 for his eight full seasons with us, all the way into the Pro Football Hall of Fame, and that number has been retired by the Jets.
But the question about Vick's number has been answered. Club 8 in franchise history is an exclusive one but there's certainly room for him to rise to the top of the list. Here are the six previous players who wore the number in the regular-season:
This article has been reproduced in a new format and may be missing content or contain faulty links. Please use the Contact Us link in our site footer to report an issue.