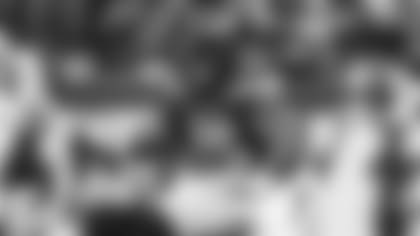 So, how does a West Coast guy handle his first blast of cold air as the winter creeps closer in North Jersey?
"Especially being from the West Coast, it's been different," Jets rookie left guard Alijah Vera-Tucker told team reporter Eric Allen and Leger Douzable on the new edition of "The Official Jets Podcast." "It's starting to get cold, so I had to buy me a little winter gear -- a black puffer jacket, New York-style.
"I want to say I'm ready for winter, but I've never lived in the cold and it's starting already. Not really snowing, but I got to get ready for it. I'll be good."
To say that the first-round draft pick (No. 14 overall) has been "good" would be an understatement of soaring proportions.
Since overcoming a pec injury in the preseason, Vera-Tucker has played in 100% of the snaps (612 total) on offense through the Jets' nine games so far in the 2021 NFL season and is among the highest-rated rookies at any position. With his on-the-field play and impeccable character he has proved the savvy of general manager Joe Douglas' decision to trade up from No. 23 to snap up the guy from the University of Southern California who was rated the top interior offensive lineman in the draft.
Like the rest of the Jets' impressive rookie class, and across the league, AVT (6-5, 308) has had to adapt to the speed of the game and now must contend with the 17-game NFL season, which is heating up just as the college season is winding down.
"My body is feeling good," he said. "I find the difference between the league and college is that I have more time to take care of my body, and I'm definitely doing that. It's sore after every game, but we're good.
"The rookie class really gels well together, we talk a lot outside of ball. It's important because you can't always be talking about ball, you have to get away. Another good thing is talking to the veterans. They're always helping us out. In terms of the future, we [rookies] know why the Jets drafted us -- because they think we're good players. And we think we're good players, too."
AVT came out of the gate in Week 1 at Carolina planted next to second-year tackle Mekhi Becton. Becton sustained a knee injury against the Panthers and has yet to return to the field.
"I see him every day getting rehab and training," AVT said. "Every day he talks about how excited he is to get back. I'm excited that he's excited. I can't wait to play next to him in consecutive games, we've only had one half together. It's going to be fun."
With Becton out, AVT, 22, is the "baby" on the Jets' offensive line. He's been playing with a group of veterans, next to T George Fant and C Connor McGovern, and with Greg Van Roten and Morgan Moses.
"It's been great, I got Fant and McGovern right next to me, GVR and Moses, who's been in the league for a minute [actually in his eighth season]," Vera-Tucker said. "I've been able to pick their brains, getting advice all the time. They've helped me slow it down and what to see on the line of scrimmage. It's been a great learning experience and I'm looking forward to more."
AVT's methodical approach in the run game has enabled him to handle most of the defensive tackles he's faced and also deal with stunts and blitzes. He has allowed only 4 sacks, according to Pro Football Focus, and seems to have a knack for dealing with a pair of rushers on the same play. He's also shown impressive agility for a big man when he gets outside and farther down the field.
"I think I've just been able to slow the game down a bit after Week 1," he said. "Going out there, the game was moving pretty fast. Now moving along through practice and playing a lot more games, I feel more comfortable out there. I'm doing my thing with the offensive line and rest of the team.
"One thing I learned very quickly in this league, especially in the run game, is that this game is definitely a game of inches. If hat placement or hand placement are not where they need to be it's going to be tough. The guys on the other side get paid, too. But I think I'm getting better every week."
Looking ahead to Sunday's visit from the Dolphins, AVT said that he's ready for Miami's aggressive defense.
"They bring a lot of guys up on the line and try to confuse you," he said. "We have to be on our toes, communication is the key. We should be all right."
While the chilly wind is starting to blow around One Jets Drive, fans of the Green & White have to have a warm feeling deep down watching Alijah Vera-Tucker grow and progress with each offensive snap.