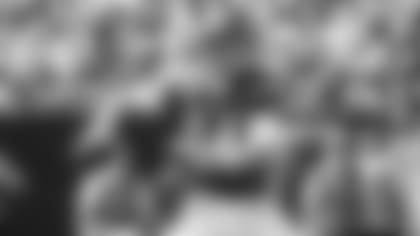 Sam Darnold and the Jets offense couldn't have asked for more from their defense. The Green & White had four first-half takeaways and the D accounted for 8 points, boosting the home team to a 16-0 lead midway through the third quarter. But Darnold and the offense couldn't generate much of anything down the stretch and dropped a gut-wrenching 17-16 decision to Josh Allen and the Buffalo Bills.
"When our defense plays like that, you have to win the game," Darnold said after finishing 28-of-41 for 175 yards with one touchdown. "When they force four turnovers and we're not turning the ball over on offense, we have to come away with points."
Darnold had a clean stat line and it appeared like he would move his record against Allen, a good friend dating back to their pre-draft days, to 2-0 when the Jets culminated their only scoring drive with a 9-yard touchdown pass to Le'Veon Bell. The Bell score came on a third-down conversion as Darnold found his open back, culminating a nine-play, 60-yard march. On the ensuing two-point conversion, Darnold dazzled while escaping veteran pass rusher Jerry Hughes, spinning and going back to Bell in the end zone.
"The initial read was to me," said Bell of the two-pointer that made it 16-0. "The Bills played it good. Sam rolled out, made a little player, threw it up and gave me a chance to make a play on it."
The newcomers carried the offense as Bell had 23 touches for 92 yards and slot wideout Jamison Crowder was his favorite target in the passing game, hauling in a career-high 14 receptions for 99 yards. But the Jets were limited to 223 yards and Darnold was frequently under duress with the Bills amassing four sacks. They also had eight pass defenses and got their hands up at the line to take away some of Darnold's passing lanes.
"We never really got into rhythm and I put that on myself," said the second-year signal-caller. "There are a lot of details to clean up and we'll see it when we watch tape."
The Bills took away the vertical strike from the Jets offense, keeping the ball in front all afternoon. When there were times Darnold had someone open deep like he did with Robby Anderson late in the fourth, connections proved elusive.
"It was overthrown," Darnold said, who also said the Bills brought some pressures the Jets couldn't handle at times and forced him to get the ball out quickly. "Those last couple of throws at the end I wish I could have back."
Allen, who had a miserable first half, answered the bell late for the Bills with a pair of touchdowns. His 3-yard scramble narrowed the deficit and then he gave the visitors the game-winning score with a 38-yarder to John Brown on a stutter route.
"I don't really think of it as just going against Sam," Allen said. "He's a heck of a football player. They're going to be in good hands here for a long time. That's sort of our thought process. We want to be playing each other for a long time."
Last December, it was Darnold leading the Jets to his first second-half comeback as a pro. Allen countered today and the 0-1 Jets have plenty of room for improvement on the offensive side of the ball.
"We were just inept on offense, making mistakes we can't make to consistently move the ball," said head coach/offensive signalcaller Adam Gase. "We have a lot to clean up there."
The Jets wont' be alone. Their next opponent is the Cleveland Browns, who dropped their home opener by a 43-13 score to the Tennessee Titans. After seeing Allen in Week 1, Baker Mayfield, who was selected by the Browns two picks before Darnold came off the board, will be up next.
"I think we need to bounce back," Darnold said. "Everyone in here is a grown man and we just need to bounce back from this loss and we will. We'll come back tomorrow, we'll come to work and get ready for Cleveland."