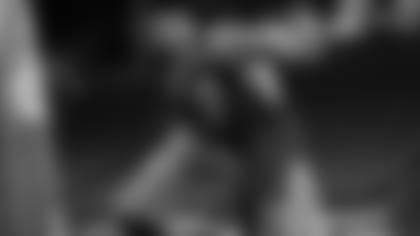 At this time last year, Quinnen Williams was nearly 25 pounds lighter and just hoping to earn a starting spot on Alabama's defensive front. Now, after checking in at 6'3" and 303 pounds at the NFL Combine, he's considered to be one of the nation's best interior linemen and is projected to be one of the top players taken in the 2019 NFL Draft.
"We talk about one-year starters. Well, at Alabama, that happens a lot because it takes a lot to get on the field at Alabama," said NFL Network's Charles Davis. "But once he [Williams] did, he took off from game one and wrecked things inside and can come off the edge at times, too. This guy's something else."
After his one year as a defensive tackle starter with the Crimson Tide, Williams came out of the 2018 season as the highest graded defender in all of college football, according to Pro Football Focus. He also received the Outland Trophy, given to the nation's top interior lineman.
"We had a lot of great guys in front of me who played great football, and I just had to fill in and do what's best for the team and what Coach Saban wanted and the defense wanted," Williams said. "And I just tried to play that role right. But this year they gave me a huge opportunity to step up and do more for the team. I took that challenge and stepped up."
When the standout showed up at the Combine, he didn't have anything to prove. He merely had to support the impressive game tape that had already put him on so many people's radar.
Clocking in at 4.83 seconds in the 40, Williams ran the fastest time for a player over 300 pounds since 2012. He achieved that time after deciding to run his second 40, despite being advised by his agent Nicole Lynn to stick with his first time of 4.87 seconds.
Along with his speed, scouts and analysts were most impressed with his technique in drills and overall athleticism for a big guy. The Alabama product also jumped 30.5" in the vertical and 9'4" in the broad jump. But even so, Williams' incredible athletic ability isn't what he believes sets him apart from most.
"We have a great class of defensive linemen just coming in. I'm just blessed to be a part of this defensive line class. But what sets me apart is my IQ level of football," he said. "I feel like I can break down film on a quarterback and watch different tendencies and things like that."
Williams went into last season with uncertainties. Now he just might come out of it as the number one overall pick in the 2019 NFL Draft.
"I really look back every day almost and look where I came from in just a year. Like a year ago I was getting ready for spring practice, not even knowing if I was going to start," he said. "So I'm just blessed to be here and I just enjoy being here."