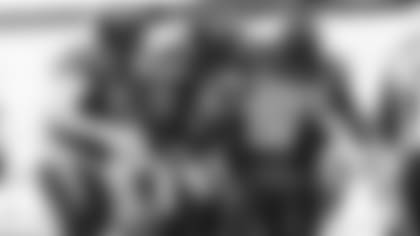 Throughout the offseason, NewYorkJets.com reporters Eric Allen, Ethan Greenberg, Randy Lange and Olivia Landis will each give their predictions to a series of questions regarding this year's Jets.
Today's question: After a heartbreaking loss, what do you expect from the Jets against the Seahawks?
EA: The Jets are a prideful club and they've remained resilient in the most trying of times. Four of their past six contests have been one-possession losses and there is no sign of quit. Inside linebacker Neville Hewitt said this week on The Official Jets Podcast that, "Make the most of this opportunity because you never know what game, what day is going to be your last play. If you don't give it your all you're going to regret it." The effort is unquestionable and it will be there again come 1:05 Pacific time at Luden Field. While the Jets haven't won anywhere in 2020, they've had their best efforts at MetLife Stadium. In five road games, they've averaged 12.2 points and they haven't eclipsed 9 points in three of those contests. Conversely, they've yielded 31.2 points on average away from home and opponents have reached 34 points in three games. A fast start is imperative for a group that has faced this amount of adversity, and scoring on their opening possession for a seventh consecutive game — which would be a franchise record — would be huge for the Green & White. They are going to take Seattle's best punch after the Seahawks' disappointing home loss to the cross-town Giants and I'm very excited to watch Sam Darnold match up with NFL's 32nd-ranked pass defense plus interim defensive coordinator Frank Bush calling signals for a unit that must contend with Russell Wilson & Co.
EG: I expect a hard-fought game. C Connor Govern said you wouldn't be able to guess the team's record based on the way it practices and the team is preparing like every week is its last game. I think the Jets will try to pick up where they left off with their rushing attack. Led by Ty Johnson, who became the first Jet since 2018 to eclipse 100 yards, the Green & White totaled 206 yards on the ground. While the strength of the Seahawks defense is its rush defense (No. 5 – 97.7 yds/g), the best way to keep QB Russell Wilson off the field is by running the ball. That group also let up 190 rushing yards to the Giants last week in a 17-12 loss at Luden Field. I expect Wilson & Co. to want to come out firing. Jets' former LB Bart Scott said to use Seattle's loss last week as a blueprint on The Official Jets Podcast: "Keep [Wilson] on the bench and force him to have to be great the few possessions you get. Take the air out of the ball and hope you capitalize to get seven instead of three." QB Sam Darnold should have opportunities through the air against the NFL's No. 32-ranked pass defense even without WR Denzel Mims, who is dealing with a personal issue according to Head Coach Adam Gase. The Green & White needs to come out fast to have a chance against one of the better teams in the NFC.
RL: I expect the Jets to move the ball. Sam Darnold and the offense did that for much of the game vs. the Raiders, posting their most total yards in the past year, their most rushing yards in the past two years and Darnold's best passer rating in a year. Plus the Seahawks have been weak against the pass. Specifically I expect the Jets to stack a second game onto last week's offensive foundation of better red zone and third-down play vs. Seattle's 28th-ranked RZ defense and No. 27 third-down D. I expect Seahawks S Jamal Adams to get a sack of Darnold, just one, since he's got Hawks-leading totals of 7.5 sacks and 13 QB hits. I expect the Jets defense not to hold down Russell Wilson the way the Giants did in Seattle last week when Wilson managed just 10 offensive points and 309 drive yards, both season lows. But in his first 11 games, he and his offense averaged 30 points and 397 drive yards. Even with Seattle's long injury list and a new Jets D-coordinator at the controls in Frank Bush, it seems unlikely the Jets will contain "Russ," as HC Pete Carroll calls his QB. Will all this lead to a close game down to the final gun? Call me a cockeyed optimist but yes, I expect the Jets to keep things interesting all the way against a team that has played five single-possession games out of their six at Lumen Field (renamed from CenturyLink Field just last month) in 2020.
OL: I expect the game to look a little different offensively, starting with the run game. Last week, the Jets rushed for 206 yards, the most since 2018. By finding success with the run, that opened up opportunities in the passing game. Seattle's defense, however, is ranked No. 5 overall in rushing yards allowed per game (97.7) and No. 7 in rushing yards allowed per play (3.96). A big reason the Seahawks' run defense has been effective is S Jamal Adams — a player the Jets are all too familiar with. In a press conference this week, HC Adam Gase addressed the challenge ahead with Adams, acknowledging his ability to stop the run. Adams has also recorded 7.5 sacks this year and 13 QB hits — the most by any other safety in the league. I expect the Green & White to turn more heavily to the passing game. The Seahawks defense has struggled in the passing game this season, ranking No. 32 in the league in passing yards allowed per game (309.8). With WR Denzel Mims out this week, the task will be greater, but I expect to see QB Sam Darnold connect with his teammates in the passing game more heavily this Sunday.