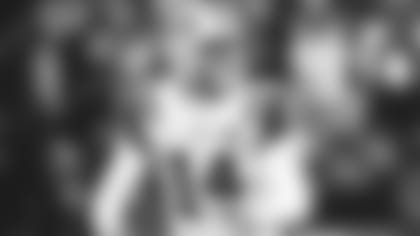 At this time last year, the Jets' priority was on their quarterback search. After finding their franchise signal caller, this year's goal is adding pieces around Sam Darnold.
"We definitely are excited about the idea of putting players around Sam," general manager Mike Maccagnan said at the NFL Scouting Combine Wednesday. "That's going to be one of our focal points this offseason."
Maccagnan reiterated the Jets will be very active when free agency commences March 13 as the team has roughly $100 million in cap space.
"There are a lot of different players out there that we feel very strongly about that can help us," he said. "Again, you don't know how that market is going to develop. From our standpoint, it's always trying to make sure we're doing deals that may be viewed as being aggressive, but deals we feel good about moving forward."
One player whom many think could be an attractive option for the Green & White is running back Le'Veon Bell. The soon-to-be free agent sat out the entirety of 2018 after being franchise-tagged for a second season. Bell is a dynamic threat both in and out of the backfield as the 27-year-old has totaled 5,336 rushing yards and 2,660 receiving yards in five seasons in addition to 42 total touchdowns (35 rushing, 7 receiving).
"We go through this whole process in terms of evaluation," Maccagnan said when asked about paying a premium for a running back. "We look at history and how positions are paid, but I would say simply this: You don't look at it just as that position, but you look at it like any player, what you think the value of that player is within reason."
Another Steelers player who is available, although by trade, is wide receiver Antonio Brown. So, will the Jets be in play for Brown's services?
"I pretty much call everybody at some point about every name that flies out there just to see," Maccagnan said. "That's something we haven't ventured too far into yet. At this point, I'm more focused on the free agency market, not the trade market."
While Mac did not reveal his offseason blueprint, he did say the Jets will look heavily into adding talent along the offensive line. As it stands, the inside of the line is in flux as left guard James Carpenter is set to become a free agent after an injury-shortened season along with Jonotthan Harrison, who started eight games at center in 2018. The Jets also released Spencer Long earlier this month after signing him to be their center last offseason.
Despite Maccagnan's offseason goal of adding more offensive pieces to the roster, he believes he has a good core in place with Darnold, tight end Chris Herndon and wide receivers Quincy Enunwa and Robby Anderson.
"There are some other players we feel good about," he said. "But like every offseason, there's definitely some starters we had that are free agents and definitely some opportunities we think we can improve the team in terms of the talent base, especially through pro free agency and the draft."