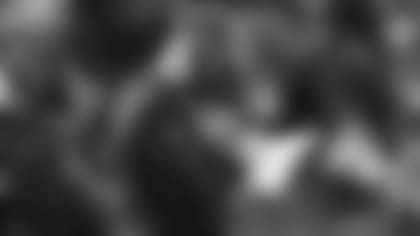 With one less day to prepare, the Jets are quickly turning the page to the Jaguars after their 33-0 loss to the Patriots on Monday Night Football.
"You don't have a lot of time to really feel sorry for yourself, feel sorry for anybody," head coach Adam Gase told reporters on a Tuesday conference call. "What we have to do, myself included, you have to come back in the next day, get the things corrected that you need to get corrected and you have to move on to the next game. You have to put a good plan together and we're on a short week and there's not a lot of time to sit there and hang your head and feel sorry for yourself.
"We have a lot of football left to play. We have to go on the road here for the next two weeks, we have to make sure that we have a good week at practice and put ourselves in position to try to go win a football game."
Eight days after QB Sam Darnold and the Green & White had their best offensive showing in 2019 in a win over the Cowboys, the second-year signal-caller had his worst performance as a pro in a shutout defeat. He competed 11-of-32 for a career-low 86 yards and turned the ball over a career-high five times (4 INT, 1 FUM) as the offense totaled 105 yards. The 22-year-old called Monday's performance one of his worst at any level, but Gase placed the blame on himself for not finding a successful formula this season.
"We haven't even really come close outside the Dallas game of putting together a complementary football game," Gase said. "We have to find consistency whether there are two different guys out on the field in one of the phases or five or none. We just have to find some kind of consistency as an entire team of guys in there, doing their job and executing what we practice all week. That's really the biggest thing we have to find a way to do is, make our gamedays look like what our practices look like. I don't think we are translating things from practice to gameday as consistently as we need to."
Gase said it'll be painful to watch the film from Week 7, but the Jets have to learn from their mistakes and correct them before hitting the road to take on the Jaguars in Week 8.
"We have no choice but to fix it," he said. "We have to figure out a way to use things to our advantage, use the things that we work on all week to our advantage. We definitely did not do that this week as an entire offense. We have to learn from this game and as painful as it is to really look back at it and see what the results were, we have to take what happened in this game, we have to correct the mistakes, go out the next week and do a better job of executing, putting a good plan together and practicing well. We have to take all of those little steps to put ourselves into position to win."
In injury news, Darnold had his toenail removed and is fine. Inside linebacker C.J. Mosley, who returned after missing four games with a groin injury, is dealing with soreness and the team will take a cautious approach to avoid any setbacks. The Jets could have a trio of players return to practice — TE Chris Herndon (hamstring), LB Neville Hewitt (stinger/neck) and DL Henry Anderson (shoulder) — and LT Kelvin Beachum (ankle) is progressing well. Lastly, C Ryan Kalil is day-to-day with elbow/shoulder injuries, which could cause him to miss a day of practice, LB Albert McClellan is still in concussion protocol and RB-KR Trenton Cannon (foot) will undergo an MRI.