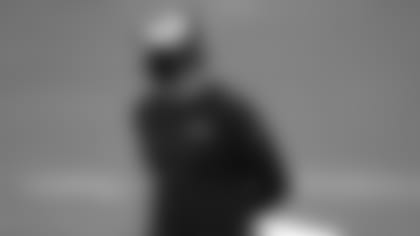 None of the Jets' plans, desires and changeups seemed to work Sunday in their 24-0 loss to the Dolphins. And Head Coach Adam Gase detailed what went wrong, and what he and his staff tried to do to make it right.
"We didn't take advantage of anything at the beginning of the game," Gase said. "Offensively, we had some opportunities for some big plays and to get everybody jump-started, and we didn't get that done. The defense had some struggles, did a great job in the second half, but we couldn't get anything going offensively in the first half.
"In this locker room, these guys are good guys that work extremely hard. It's frustrating when you talk to them on Monday and you can tell they're hurting. They come in to work and do a good job and have high energy at practice. I feel the players are the ones who are trying to flip this thing, they're taking the lead on this. We've just got to keep grinding and find a way to fix these early mistakes to try and flip the game."
Their play at Hard Rock Stadium wasn't the kind of complementary football Gase has been preaching. The offense, with Joe Flacco at the controls again for rehabbing Sam Darnold (shoulder), got Breshad Perriman back in the offense but was under constant pressure (3 sacks, 10 QB hits by Dolphins defenders). The Jets had six punts and an interception in their first seven possessions, with five of them three-and-outs. They were 0-for-their-first-12 on third-down conversions before Flacco found Perriman for 22 yards on third-and-4 with 10½ minutes to play.
Defensively, things did go better in the second half (102 yards allowed to Miami) than the first (200 yards allowed). But in the first half the "D" yielded 66-, 65- and 48-yard touchdown drives in a five-drive span as the Green & White fell behind by halftime, 21-0.
Special teams contributed with a few shortcomings of their own: a 30-yard punt return by the Dolphins' Jakeem Grant to set up the hosts' third TD, a muffed kickoff by newly returned Vyncint Smith that led to a drive start at the Jets 9, and Sam Ficken's first missed placement of the season (albeit on a 55-yard field-goal try).
The players remained down but not out after the Jets' record slipped to 0-6.
"We've got a bunch of great guys here," RB Frank Gore said. "You see it in practice. When we come to practice each day, everybody's up, nobody tucks their tail or holds their head down.
"We've got to do better. We've got to play better as a team. We've got to find a way to continue drives, find a way to start fast. I know we keep saying we practice hard every day, we stand up, but we've got to find a way to do it on Sundays. That's it."
Gase was on the same wavelength as his starting tailback.
"Yeah, we've got to get back to work," the coach said of whether he saw a way out of the Jets' start. "We've got to get these young guys playing as well as we can get them playing. Our explosive players, we've got to get those type of plays out of them. Whoever's out there has to play the best technique possible."
In short, they've got to do as well as they did in 2019, when they went 1-7 for the first half, but rose up and righted the ship with a 6-2 second half.
"Last year we improved, we started trending in the right direction," Gase said. "This year we've got to figure out a way to improve really quickly, top to bottom, players and coaches, it doesn't matter. We've got to figure out ways to make things better."
See Best Images from the Week 6 Game in Miami