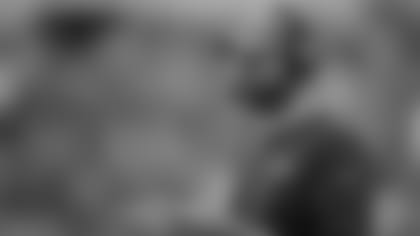 There were many similarities between the Jets' 30-14 loss at New England two weeks ago and their 31-6 loss at Philadelphia on Sunday.
Le'Veon Bell tried to carry the offense but was limited to 88 yards on 22 touches. QB Luke Falk, starting again for Sam Darnold, was under the gun even more so from the Eagles' pass rush — he was sacked nine times at "the Linc" — than from the Patriots'. The Jets finally scored an offensive touchdown for the first time since Buffalo but in reality that end-around TD by blazing newcomer WR Vyncint Smith came about because of a special teams takeaway suggestive of the muffed-punt TD vs. the Pats.
"The defense is playing good, the special teams is playing good," head coach Adam Gase said of the possibility of a fracture developing in the Jets' locker room due to the offense's struggles. "We all know what group needs to play better. That's on me. So I told those guys in there, I'll get it fixed. It's on me, it's on nobody else, so that's what we're going to do."
That in effect was what Gase said he told his team after his defense allowed just 265 yards and 17 of the 31 points (the other 14 came on returns of offensive turnovers) and the specialists covered and returned kicks well and set up that one-play TD "drive."
"We're four games in," the coach said of his message. "We've got a lot of good football going on, on defense and special teams. And we've got to clean things up on offense."
Gase, his coaches and his players tried to do that during the bye week. One thing he tried was to swap in Alex Lewis for the injured Kelechi Osemele at LG and rookie Chuma Edoga for Brandon Shell at RT.
"We were just trying to mix it up and put five guys out there that we thought would work well together," he said. "Chuma's a guy that we drafted for a reason. He's had good weeks of practice, he's a guy that's been a good pass protector, and we just thought like that would give us a good chance."
Instead, the run game puttered along at 3.5 yards/carry and Bell at 2.9. And Falk was pummeled hard by the Eagles' awakened, blitzing pass rush. He was sacked nine times — the most times a single Jets QB went down on the road since Ken O'Brien was sacked 10 times by the L.A. Raiders in 1985 — hit at least a half-dozen times more, and went into the blue examination tent on the sideline after his last hit because, as Gase said, "He didn't have a concussion there. It just looked really bad when his head bounced off the ground."
"You can't just blame the offensive line," Gase said. "We were taking our turns, and it avalanches. You let a defensive line like that start feeling like they can get through, and we put ourselves in some longer situations."
The coach said getting Darnold and MLB C.J. Mosley back sooner than later will be instrumental in moving things in the direction many thought the Jets would be heading this season before the injuries and illnesses backed up around opening day.
"That obviously is going to help us a lot. We've just got to make sure we understand when we know what a team is going to try to do to us that we go out and we do a better job of finishing the plays the way we need to finish them."
Long story short, the head coach said the offense needs to improve and that means he needs to lead the way.
"They're not fun, I know that," Gase said about this loss that dropped his Jets to 0-4. "It hasn't been fun to call. We've just got to find a way to be able to run the football, have positive plays, and keep ourselves out of third-and-long. We're just doing all those things that you can't do to be able to move the ball offensively."