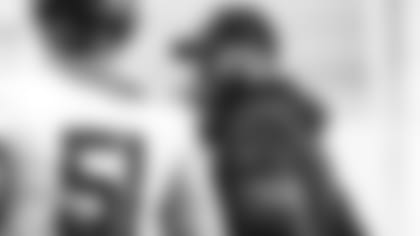 This week it's time for Jets head coach Adam Gase to prepare for Jets-Dolphins II: The Return Visit.
Jets fans might add two words to that faux movie title, something like "The Return Visit ... for Revenge." But that's not the way Gase views Sunday's AFC East rematch with his former team despite the Jets' 26-18 loss at Miami five weeks ago. That was Gase's first return to South Florida after serving as the Dolphins head coach from 2016-18.
"I approach this just like it's a normal week," Gase told Miami beat reporters on a conference call today. "Coming back there [to Hard Rock Stadium], that was an interesting experience just because there were so many guys that we were playing — a lot of them are on IR now — but it was good to be able to see those guys before and after the game, just because we're all so deep into what we're doing and you don't really get to communicate with anybody."
Gase, after all, is a coaching lifer and the members of that fraternity have touched the lives of hundreds if not thousands of players over their careers. But as close as Gase might have been to the holdovers from his last Miami roster to this year's roster under first-year head coach Brian Flores, his current Jets were very much on his mind as he tried to coax a win out of his old stomping grounds in Miami Garden.
The Green & White couldn't overcome three second-quarter Ryan Fitzpatrick touchdown passes that early November day, but since then, they've lived another football lifetime or two. QB Sam Darnold and the Jets rose from the ashes of that bitter defeat to post three straight well-played wins. Then came last week's loss at Cincinnati. Now Gase must deal with the back end of the home-and-home series and coach up another win, not because it's the Dolphins but because it's the Jets.
"Yeah, you always just want to take it one week at a time," Gase told Jets reporters of trying to guide the Jets to a momentum-building finish to their current season, "and really we have plenty of challenges coming up here in the next month. Obviously we have a chance to play a home game against a division team, we lost to them last time, so we have a chance to go play these guys again at our stadium and put a good game together.
"Nobody is more disappointed than we are, I know that," the coach said of the Jets' 4-8 record. "Things didn't work out for us this year. We couldn't get things rolling in the right direction. We lose our quarterback for three games, it set us back, we just could never keep a core group of guys healthy long enough to gain that chemistry. We just have to find a way to keep getting better these last four weeks and do the right thing, prepare the right way, practice the right way, execute on Sunday, try to put one good game together so we can win this week."
Gase had one more take on the Jets' and Dolphins' 54-year-old, 108-game (including the "Mud Bowl" in the 1982 playoffs) history while wearing his green and white glasses and not the aqua and coral spectacles he retired after last season.
"I think when I look at it, it's just right now these are two programs that are in their first years with a new head coach," Gase told the Dolphins media. "I'm sure there's a different kind of hatred between the fan bases. But right now it's really both sides just trying to find ways to get better as our programs develop. And the better each program gets, then that helps create even more of a rivalry when the teams are playing better."