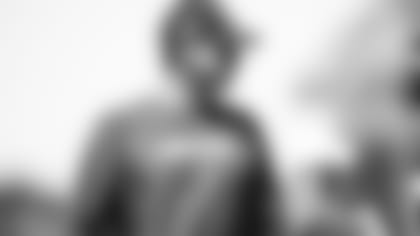 Adam Gase held his first news conference of the OTA period, but only a few questions from reporters dealt with the players on the field. More were focused on Gase speaking for the first time as the Jets' head coach and temporary general manager one week after owner Christopher Johnson dismissed GM Mike Maccagnan.
"Really, it's going to be Christopher Johnson's decision," Gase said of the process of naming a new general manager. "We're doing our part. There's a group of us working on this ... I think there's a mold of what some teams are looking for in a GM. I think he's looking for something a little bit different, and we're trying to do a good job of putting everything on paper and then talking through everything."
Gase said of any reports of his winning a turf battle with Maccagnan, "That would be false. That's just not true. Christopher made a decision." He cited disagreements that he and Maccagnan might have had but "the majority of the time we were on the same page."
As to whether he and Maccagnan could have worked together this season, Gase said that was "irrelevant."
"The decision was made. We're moving forward," the coach said. "We can't hash about two weeks ago. I mean, we sit here and tell players, 'Move on, don't worry about the last play, don't worry about the last game.' What happened last week, it's over and we've got to move on."
The Jets are moving on with Le'Veon Bell, and Gase left no doubt how he feels about the prospects of working with his dynamic new bellcow back.
"I'm excited we have him. I've been in constant communication with him," he said. "Discussions happen, and when you're going through free agency, you're trying to put together a big puzzle. You're trying to figure out money, fit, locker room, all those things. Whether or not we disagreed on anything financially, that's a completely different story than the person or the player. That's where a lot of this gets misconstrued.
"Le'Veon Bell is a great player. He's a good person. He's been in constant contact with me. I enjoyed my interaction with him when he was here on his visit, for his physical, when we signed him, when he was here for the beginning of Phase 1. He texts me all the time. All that stuff you get on Instagram? I get it first. So that's how I know what he's doing."
Gase similarly dismissed other reports about the contract the Jets signed unrestricted free agent LB C.J. Mosley to: "We did everything we could to get him. I think I took a paycut. So whatever we had to do to get him, that's what we wanted to do."
Gase said he hasn't sensed any concerns in the locker room over this entire period of front office upheaval.
"These guys have been great," he said. "They're worried about practice, learning the new offense, defense, special teams. They're coming every day trying to get better. You talk to C.J. Mosley, I don't think he even knows you guys will be out there [at practice] and I don't think he cares. All these guys have been great about putting their heads down and working."
And the fans? Also no concerns from the head coach/temporary GM.
"I think our fans care if we win or lose," Gase said. "If we win games, nobody's going to remember this, I know that. Our job is to win. That's it."