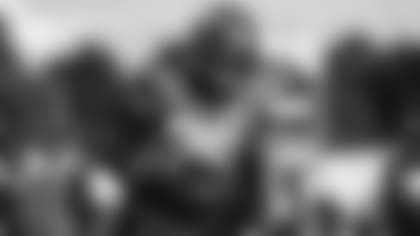 Potential Shot in the Arm
Head Coach Adam Gase said that RB Le'Veon Bell has looked good in practice this week after he was designated to return on Wednesday. Bell has missed the last three games with a hamstring injury and Gase thinks that Bell can be effective Sunday against visiting Arizona after two practices, if he's activated from injured reserve.
"He did a good job of, one, getting healthy and then staying in good shape," Gase said. "Did a good job making sure that he maintained where his weight was. It's pretty easy, especially when you have a hamstring issue to where you can't do what you're normally used to doing, he did a great job as far as making sure he stayed right where he was at when he got hurt. I think he feels even better now than he did when we kind of hit that first game."
Bell rushed 6 times for 14 yards in Week 1 against the Bills and had 2 receptions for 32 yards before he sustained a hamstring injury late in the opening half. Gase said it's difficult to project how the rotation among Bell, Frank Gore and La'Mical Perine will play out on game day, but he's not concerned about giving Bell a heavy workload coming off an injury.
"That's always kind of in the back of your mind, but I think it's a little different when you've got a guy that's been in the league for as long as he has and done what he's done," Gase said. "So, I trust him as far as giving me the right information. I think he feels like his body is in a good place. I think being able to take the last three weeks to really get his body right and make sure that he's healthy – if he had a concern, he'd tell me."
Steady Sam
Jets K Sam Ficken's 16 points in the Week 4 game against the Broncos tied for the fifth-most points in a single game in franchise history, connecting on all five field goals and an extra point. He matched his career-long with a 54-yard field goal in the fourth quarter and is one of seven NFL kickers to connect on 100% of field goals (8) and extra points (5) this season.
"I think he's had an outstanding year thus far and hopefully he continues, which I think he will," special teams coordinator Brant Boyer said. He added: "He prepares like a pro, comes to work every day, comes in early, stays late and does a nice job of preparing, taking care of his body. I think the world of him. He has plenty of leg and he's consistent. I think he's done a really nice job thus far and look forward to him continuing to do so."
Ficken, 27, joined the Green & White in September 2019 and kicked in 15 games, connecting on 70.4% of his field goals (19 of 27) and 88.5% of his extra points (23 of 26). He had stints with the Jaguars (2016), Chiefs (2017), Rams (2017, '18), Seahawks (2019) and Packers ('19) before settling with the Jets.
"I think he's earned the spot where he's at," Boyer said. "He's worked a lot of years to get here, went through some ups and downs and worked his butt off. Now it's finally paying off for him. I think his confidence is at an all-time high right now and it should be. He had an unbelievable camp and I thought he kicked just like he's kicking right now all through camp. He did a heck of a job. It doesn't really surprise me he's doing really well right now."
Ficken said about his success this season: "I think a lot of hard work in the offseason and the operation being great for me has helped a lot. Then just executing."
Injury Report
WR Breshad Perriman (ankle) and LT Mekhi Becton (shoulder) are doubtful for Sunday's game against the Cardinals. ... CB Bless Austin (calf), S Ashtyn Davis (groin), DL John Franklin-Myers, Chris Hogan (ribs/calf) and OLB Jordan Jenkins (calf/shoulder) are questionable.