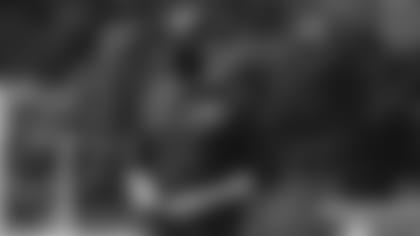 The Jets' ground game will have a different sound to it, now that the team has parted ways with its Bell.
After Tuesday night's reports and a team statement that the Jets had released RB Le'Veon Bell, Head Coach Adam Gase told reporters at his midday news conference on Wednesday that he wishes the big back well.
"We just felt like it was best to part ways, give him the opportunity to go somewhere else," Gase said. "For us, I want nothing but the best for him getting the opportunity to go somewhere else and have success. It's tough, it's a tough decision to make, but we felt like that was best for us where we are right now, and we've got to move on to Miami."
Signing Bell to a lucrative unrestricted free agency deal in March 2019 seemed like a good idea at the time, but the former Steelers star who sat out 2018 before heading to free agency, never reached the heights he scaled in Pittsburgh.
In the 21 games he was with the Jets, he played in 17, sitting out a game with illness last year and three games this year on IR with a hamstring injury. He finished his tenure in Green & White with 264 carries for 863 yards (3.3 yards/carry) and 3 touchdowns, plus 69 receptions for 500 yards (7.2 yards/catch) and 1 TD. He had three 100-yard from scrimmage games as a Jet, but his biggest rushing output was the 87 yards he ran for on 21 carries at Baltimore last season.
"At the end of the day, offensively, we really haven't done a whole bunch to impress anybody right now," Gase said. "We've got a lot of things to get corrected. We have to do better, coach better, play better. That's the entire team."
He said that he talked to his team about Bell's release at Wednesday's team meeting as well as to many players individually and said: "I think our locker room's pretty good right now. ... I talked to a lot of guys one-on-one, whether it was last night or today. Guys seem to be alright They're in a good place."
That of course includes the newly reformed running back depth chart. Frank Gore remains the ageless veteran presence as the starter, with rookie La'Mical Perine set to get more reps; and recent waiver pickup Ty Johnson and practice squad member Josh Adams also available.
"Perine's definitely going to get a bigger role," Gase said. "Frank, he knows how many touches are the right amount for him. Getting Perine going is going to be critical for us. Then having two younger guys in Ty and Josh Adams available, we'll get all these guys going."
Gore, in the three games he stepped to the fore while Bell was rehabbing his hamstring, has played in exactly 100 offensive plays and contributed 51 touches. For the season — his 16th in the NFL — he has 64 carries for 204 yards (3.2 yards/carry) plus 2 catches for 11 yards. Perine has 40 offensive snaps this season with 15 carries for 56 yards (3.7 yards/carry). Adams was elevated from the practice squad to the active roster for the first two games this season while Johnson has yet to play for the Jets after arriving on waivers from Detroit on Oct. 2.
Gase had little more to say about Bell, preferring to keep his focus on the Jets' new Week 6 opponent, the Dolphins at Miami, after the NFL on Sunday rearranged several teams' schedules due to COVID-19 considerations and moved the Jets' original Week 6 foe, the Chargers at Los Angeles, to Week 11.
"For whatever reason, it didn't work out," Gase said, referring to the team's signing of Bell. "We're moving forward to Miami. That's the No. 1 concern for us right now."