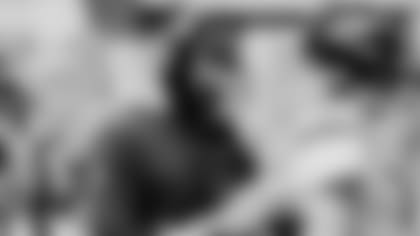 Adam Gase tried to be supportive in his postgame remarks after the Jets' 30-14 loss at New England today, but he didn't hold back when it came to using some tough adjectives.
Much of those adjectives came up after reporters' questions about the offense, which struggled badly against the Patriots' No. 1-ranked defense. The Jets gained 101 yards — the third-lowest total in a game in franchise history — managed six first downs (none rushing) and went 0-for-13 on third-down conversions.
"Offensively, we were atrocious," Gase said. "As bad as you can get."
"Yeah, it's brutal. It's like one of those things where it's infuriating," he said. "You're watching the defense and special teams play as hard as they can, executing what they're being asked to do and doing it well most of the game, and we're not holding up our end on offense."
As for the bye week coming up next week before the Jets hit the road again for their interconference game at Philadelphia on Oct. 6, Gase continued in candid mode.
"We've got to look at a lot of things over this bye week," he said. "I thought I'd never say 'Week 4, bye week, glad it's here,' but we've got to address a few things. We're not in sync, we're not doing a good job of working together. We've got to get that fixed."
Gase faulted the O's execution more than its effort. He obviously knew there could be some rough sledding with Luke Falk stepping under center as the Jets' third starter — and making his first pro start — in the first three games. The line continued to struggle in front of Falk, allowing Le'Veon Bell and the rushing game 1.8 yards/carry and 36 rushing yards in all and allowing five sacks of the young signal-caller.
"There were a lot of things he did really well that he didn't get a lot of help with," the coach said. "He's a guy in his first NFL start, he knows what's going on, and other guys around him are not getting it done."
Gase also knows that the return of starting QB Sam Darnold, possibly for the Eagles, will help the offense to get back on track, as will a return of starting WR Demaryius Thomas, whose injury prompted a move of Jamison Crowder from the slot, from where he had most of his 20 receptions, third-best in the NFL after two weeks, to the outside.
"Once we get Jamison back at his normal position, that'll help. He's basically trying to do us a solid by playing outside today," the coach said.
Despite the 0-3 start and the offensive woes, Gase expressed strong confidence in his team's persona heading toward Game 5 and the rest of the post-bye season.
"That's a good group of guys. You don't have to worry about them. That's the last thing I worry about," he said. "The way our defense and special teams played, and it wasn't for lack of effort on offense, we were just off, but personality-wise, these guys are going to fight together and stick together. If you were in the locker room after the game, you would understand."