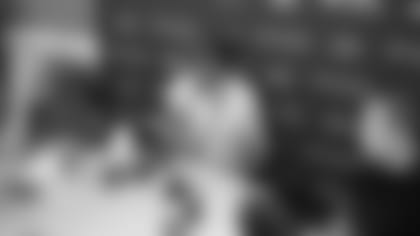 Adam Gase characterized the start of his first free agency signing period as the Jets' head coach as something of a personnel roller-coaster.
"I thought it was an interesting few days," he said. "It got a little exciting towards the end but it turned out the way we needed it to and we added some good pieces."
Gase, in some of his first public remarks about those "good pieces," spoke with newyorkjets.com's Eric Allen at the NFL meetings in Phoenix about the new players and familiar faces who have been signed since March 13:
RB Le'Veon Bell: "I think for us, it's going to be about learning him. He brings us something in the passing game that you don't see from a lot of running backs, especially with his size, his speed, his ability to run routes. It's almost like getting a slot receiver that plays running back. That's just outside of him being a really good all-around running back."
ILB C.J. Mosley: "He was a huge piece for us because he's going to be able to run the defense the way Gregg [Williams] wants. We looked at it as we had to get our quarterback on defense, and we felt he was very important for us to get on this roster. We look at it as we have three elite players at all three levels. You have the defensive line with Leo [Williams], C.J. at the linebacker spot and Jamal [Adams] in the secondary. So the middle of that defense is looking the way we want it to look."
WR Jamison Crowder: "When you get the slot receiver really that you're looking for, he's setting the tempo a lot of times. Especially if you're on the ball and you're trying to go quicker, that guy is all over the place, he's the guy that moves a lot. And I think [Jamison] is going to be really an important piece not only on third down but on first and second down."
G Kelechi Osemele: 'He's a very violent player. He's disruptive for an offensive guy where he can move the defensive line off the ball. He's going to play whistle to whistle, he's going to give you everything he has, he's a smart player, he's very good at any type of scheme you can imagine — he can do it all."
CBs Brian Poole and Darryl Roberts: "We wanted to make sure we got Darryl back — that was really big for us. Then the fact that Brian really became a free agent was important because [slot corner]'s a hard position to find, it's a hard role to fill. When you find that guy, you really want to make sure you get him in the building and he gets in our system."
DL Henry Anderson and Steve McLendon: "Both those guys, they were big targets for us. We knew getting those guys back was going to be big. ... With Leo already being there, now you add those two guys back n the mix and you could get excited."
It won't be long before Gase and his staff start coaching up these players and the rest of the roster. The Jets' offseason strength and conditioning program begins April 8.
"It's tough when you're sitting around, watching film, doing all these things, but you have no interaction with the players," he said. "You really want to get those guys in the building so you can start teaching the way we do things, how we're going to go about our business moving forward. And I think guys are excited to get back, kind of be done with the break, and I know most guys are working out, getting ready to go, because once April 8 comes, we're going to hit the ground running."