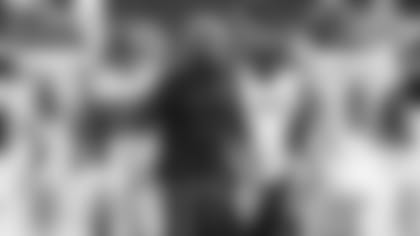 Adam Gase's first sight adjustment for the Jets' Monday night affair against New England came this week with a changeup in his normal MNF practice schedule. The head coach's initial sked called for a full practice today, but he made the call to turn Wednesday into a recovery day.
"Normally, we had done that," Gase said of Wednesday practice before Monday game. "We're pretty banged up right now, so we were limited on who would have been able to go today. We're light in two positions right now. It just would have been hard for us to get the reps we wanted in, so we just pushed everything back a day."
The Jets are in an odd injury situation this week. Some players are getting better and either returned for the win over the Cowboys or could come back for the Patriots. But others came out of Big W over Big D with some new nicks and nacks.
Gase's rundown on the Jets' injuries:
LT Kelvin Beachum (ankle): "It's going to be week-to-week still."
TE Chris Herndon (hamstring): "Week to week. ... It's going to be about can we get him in practice, how does he feel at practice, how far can he stretch it?"
LB Albert McClellan: "He's in the concussion protocol."
RB/KR Trenton Cannon (ankle): "Day to day."
LB Neville Hewitt (stinger): "Still day to day."
LB C.J. Mosley (groin): "He's going to try to work in practice some tomorrow, so we're making progress there."
CB Nate Hairston (knee): "He's going to try to work in practice some tomorrow."
DL Henry Anderson (shoulder): "Hopefully we get later in the week and we get a chance to get him out to practice."
G Kelechi Osemele (shoulder): "Not going to practice, still going through our process."
If all were to miss MNF, that could be painful. But a return of Mosley, who injured his groin in the opener vs. Buffalo, would be as impactful as ...
"As impactful as getting a starting quarterback back," Gase said. "It's that impactful.
"I'm hopeful, for tomorrow, he'll be able to do individual and just kind of see how it goes. I think we're just taking this minute-to-minute. At the end of the day we want to make the right decision, whatever we decide to do. I think this is just going to be more than just me saying, 'Hey, it looks good,' and the trainers. I think this is going to be full organization, C.J. involved, as far as what's the best thing for him."
What's been difficult for the Jets' offense has been developing a team identity, with Sam Darnold, Herndon, Demaryius Thomas, and several linemen in and out of the lineup. But Darnold returned in style vs. Dallas, finding WRs Robby Anderson and Jamison Crowder to great effect. Add Herndon and Thomas to the mix, keep the OL as intact as possible, and things start to happen with RB Le'Veon Bell and all the other skill players.
"I always look at it like this: Are you a tough team? Are you able to adjust? Are you able to be a chameleon-type offense? If you're not ..." Gase said. "Last week was the first time where we actually put something together to where we looked like we can play-action pass. You know, do something things, push the ball down the field a little bit. We hadn't shown that.
"I think we're still kind of in that weird stage of trying to figure out exactly who we are. But I think once you kind of figure out who you are, commit to it, sometimes it takes some time within the season, takes four or five games. We just haven't really been a whole offense. Last game was the first time."
Now if Mosley can possibly return, Gase and the Jets have the opportunity to continue to play the Tom Brady offense and the defense that's No. 1 in many NFL categories tough at MetLife, as they have every year since 2013.
On the other hand, knowing the Patriots as the Jets do, many more sight adjustments are ahead right on through late Monday night.