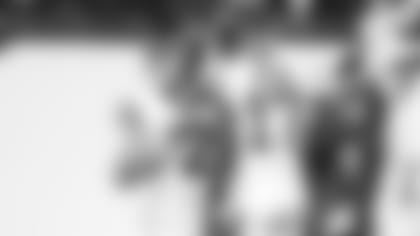 With Aaron Rodgers in attendance on Sunday night at MetLife Stadium, QB Zach Wilson delivered his best game of the season, and perhaps his career , despite a 23-20 loss to defending Super Bowl champion Kansas City.
"Other than the first quarter and some stuff in the fourth I thought Zach played really well and we were really efficient moving the ball," Rodgers said Tuesday on "The Pat McAfee Show." "We spot them 17 and then came roaring back and the crowd was electric. I don't talk about moral victories but definitely a lot to build from that game the other night. Hopefully we can get this one this week and start getting on a roll into the bye week, get healthy and we're ahead coming out."
Wilson completed a season-high 71.8% of his passes Sunday, the second-highest mark of his three-year career. The No. 2 overall pick in 2021 threw for season-high 245 yards, 2 touchdowns. He used his mobility to escape the pocket and cross the goal line for the 2-point conversion, which tied the game, 20-20, in the third quarter. Wilson also did not turn the ball over.
"I'm very proud of the leadership that he showed," Rodgers said. "I'm proud of the way he played, I didn't need to pull him aside or tell him anything special. There wasn't a pep talk I gave him that made him play better. I felt like the plan was a good plan. He got into rhythm there in the second quarter and made some really great throws. I thought the drive coming out of halftime was fantastic. He started off the second half with a back-shoulder seam route to [Tyler] Conklin. Then hit a couple good throws on the drive and hit his favorite play in the red zone to Allen [Lazard] for a touchdown. Then ran QB draw and had a great scramble to get in the end zone to get us tied. The whole place changed after that. It was pretty electric."
Rodgers was cleared by doctors late last week to travel and attend the game on Sunday night. While the four-time NFL MVP has only been back in New Jersey for a few days since his surgery to repair his torn Achilles tendon, he never lost touch with Wilson.
"Zach and I talk almost every day," Rodgers said. "We're very close and I love him. I care about him, so I'm always checking in with him and seeing how he's doing."
He later added: "I think you've seen a lot of great leadership growth from him. I think our society at times wants to cancel people or label people and keep that label on them regardless of any self-growth or experience that changes the perspective of your life. He's been labeled a certain way by people so when people see this side, they don't know what to think or how to react. Zach's a young kid. He's learning, he's growing, he's on his own path and journey."
With Rodgers in a suite at MetLife Stadium, the Jets' offense totaled a season-high 336 yards and converted on 42% of its third downs.
"I felt like Hack [offensive coordinator Nathaniel Hackett] did a great job of giving Zach a lot of good opportunities," he said. "Changing the launch point, some action stuff and changing the face with some good keeper stuff. I thought we ran the ball at times fairly decent and blocked really well up front."
This week, the Jets will play the Broncos in Denver, Hackett's former team. Wilson and the Green & White won in Denver last season, 16-9, in Week 7.