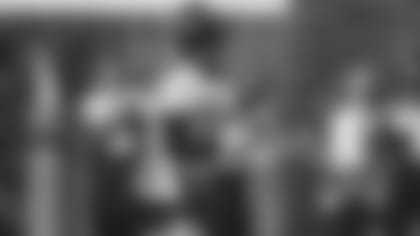 It seems a bit ludicrous to call a 27-year-old wide receiver an "elder statesman," but among the Jets' cadre of young and eager ball-catching savants that's exactly what Corey Davis has become.
So, this week's dollop of sage advice, coming after consecutive, confidence-raising victories was vintage Davis.
"There's highs and lows in this league," Davis said on Wednesday as the Jets prepare for a trip to Wisconsin to face Aaron Rodgers and the Green Bay Packers. "You have to come back every week ready to work, regardless of whatever happened last week. You have to flush it."
Through five weeks this season, Davis [6-3, 209] is one of seven players in the league to have scored fourth-quarter touchdowns in two games. His 17.6 yards per catch and 299 receiving yards lead the team. His yards per catch average is fifth in the league.
"He does all the grunt work, then absorbs all the big body work over the middle and contact," head coach Robert Saleh said after the victory at Pittsburgh, when Davis had 5 catches for 74 yards, including a fourth-quarter TD grab that began the Jets' 14-point rally. "Then he's there in the run game, just digging out safeties. He absolutely grinds every play.
"So, his stats may not show up, but he's been having a really nice year with the way he grinds, play in and play out. We're really excited. He came [into camp] with a renewed mindset to attack the season. So, he's been doing this all year."
Davis signed last year in free agency, but missed eight games late in the 2021 campaign with a core muscle injury that required surgery. The spotlight shifted quickly WR Elijah Moore, who had a strong second half last season. Then the Jets plucked Garrett Wilson with the No. 10 overall pick in the 2022 NFL Draft. But as often happens with marquee free agents, they sometimes need time to acclimate and reach their comfort level. That mission appears to have been accomplished this season, with Davis playing key roles in the team's two fourth-quarter comebacks through five games.
"We put a big emphasis on finishing games, finishing the job this offseason," Davis said. "Two-minute, whatever it is, we understand in this league games are close and they are won in the fourth quarter. You have to stay with it and when you hit the fourth make it happen."
That is exactly what Davis and the Jets have done so far. With a 3-2 record ahead of facing the Packers at Lambeau Field on Sunday, the Jets have outscored the opposition by 58-20 in the fourth quarter. First, there was the improbable rally at Cleveland when Davis caught a 66-yard TD pass from Joe Flacco, setting the stage for Garrett Wilson's game-winning TD. Then at Pittsburgh, he caught a scoring pass from Zach Wilson and then his receptions on the game-winning drive seemed like an afterthought, but they were not. On that final surge, Davis caught 2 passes, one for 15 yards and a first down and one for 17 yards and another first down.
"From a coach's standpoint when you draw up a player you can't draw it up better than him," Saleh said, referring to Davis. "For his mindset and how he prepares every day. The way he goes about his business, the way he talks to his teammates and takes care of himself. Then you go on the field and he's deliberate in everything he does. And on top of that, he's pretty damn good at what he does. He's been everything we've expected as a free-agent pickup, because they don't always end up that way, knock on wood, he's been awesome."
In last week's victory over the Dolphins, Davis caught 2 passes for 38 yards without a receiving TD; but in that he was not alone because the Jets scored all 5 of their TDs on running plays.
Now with a chance to win their third game in a row, facing Mr. Rodgers & Co. on their home turf, Davis is aware of fans' expectations and the positive hype that has surrounded the Jets and their core of young players.
"We have to run our operation regardless of people's expectations," he said. "We know what we've got to do to get the job done every week, and that's just focus on us."
Speaking about the trip to Lambeau, he added: "That's what you want ... to be the best, you have to play the best. They're a threat as a team. Rodgers is a future Hall of Famer who has done a few things in his career. We have to be on top of our game to go out there and get the win."
See the top photos from Wednesday's practice leading up to the Packers game.