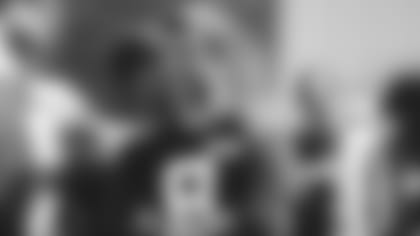 The love affair between Jets fans and Aaron Rodgers has quickly gone through several phases. From "It's great that we're trying to get him but he's not leaving Green Bay" to "The trade is great but what does he have left?" to "He sounds great about being here but will it be come-up-short, one-and-done like Brett Favre?" to "Wow, he's at OTAs and he's saying all the right things about his teammates and coaches and Joe Namath, so just maybe ...."
The fans are now entering around phase eight (Rodgers' new uni number) of this relationship when they hear what their new superstar quarterback and his good media friend Adam Schein of SiriusXM's Mad Dog Sports Radio talked about for more than 25 minutes this past week.
Carbone, the high-end Greenwich Village restaurant? The Taylor Swift concerts at MetLife Stadium?
"I think you always have to take your mind there so you can understand the manifestation of these dreams and thoughts," Rodgers told Schein about what it would mean to deliver an NFL championship to Jets fans. "Coincidentally enough, last night I was watching a 30-for-30 [on ESPN] on the '86 Mets."
Rodgers unfolded his recollection flawlessly, all the details in the right places. He talked about always being a Kevin Mitchell fan growing up on the West Coast and how Mitchell, a rookie on those Mets, singled and scored the tying run in the 10th inning that preceded Mookie Wilson's "trickling ... it is a fair ball ... GETS BY BUCKNER!" grounder that won Game 6 and led the Mets past the Red Sox to their seven-game World Series triumph.
"Many Mets fans are Jets fans. Obviously the Jets used to be on Long Island. ... The reaction of the fans was so classic," he said, demonstrating his rapid study of and familiarity with his new base of supporters. "And you realize how special it would be to win a championship — anywhere, obviously, but I think especially here in New York, with a team that hasn't been in the playoffs in 12 years and hasn't been back to the Super Bowl since Broadway Joe."
Rodgers naturally put down the horsehide after that reminiscence to talk about several pigskin topics that he's already explored in his several interviews with Jets reporters but expanded on with Schein:
On how many teams can realistically win an NFL title and in particular Super Bowl LVIII: "I've always said eight to 10 teams. The six you mentioned [Jets, Bills, Chiefs, Bengals, Eagles, 49ers] are all in the conversation, and I think there's probably some others that deserve some love as well. ... In our division I think there are four really good teams, and we get to see where we stack up in the first game of the year against my buddy Josh [Allen] and the Buffalo Bills, which'll be a fun way to start the season."
On WR Garrett Wilson vs. Rodgers' favorite WR, Davante Adams: "This is difficult to make this comparison because Davante Adams to me is the best receiver in the league. ... But the way he went about his business and continues to, the professionalism, the swagger, the confidence, the attention to detail, [it was all something] to pass on to Garrett just to let him know what the standard is.
"But Garrett naturally does a lot of those things. He's got a great work ethic, very good practice habits, he's incredibly gifted, he has incredible lateral quickness, and he also runs in the 4.3's in the 40, so he's got all the skillsets. He's definitely a little smaller than Davante is, I think there's some room to put some weight on, but he's so shifty and dynamic with the ball in his hands. He's got a chance to be a really, really good player in this league."
On some over-the-top reaction to his calf tweak from Wednesday's warmups: "Just tell them to relax a little bit. I had a little stiffness, tightness and I just decided it wasn't worth it to push it. I'll be back out there pretty soon. It's a different type of training at times here, which is great. I love our strength coach and staff, and the performance staff are great. I'm doing some things I haven't done in 19 years. It's been a while. I just kind of tweaked it a little bit but I'm fine."
On the source of his motivation at 39 years of age: "That's the beauty of sports. You can be inspired by so many people around you ... but the motivation has to come from within. I think you have to have that deep, deep self-motivation on the days where it doesn't feel great or you're hurting or you're tired. You have to dig deep and give more and keep pushing the end of what, in your mind, is your limit, on your physical capabilities, your mental capabilities, your toughness, your grit, your focus, your preparation.
"I think it's all a part of trying to play at a high level as long as you possibly can, and so that's enough motivation for me. And I've got plenty of it, still a lot left in the tank. And this has just been an extra energy boost every day. To get to know these guys and just the excitement in the building and on the team and going out and about, whether it's in Jersey or in the city, I couldn't be more excited."
On where he's headed next when he gets "out and about": "In no particular order, definitely Mets and Yankees games, a Broadway show, and a Taylor Swift concert." Pressed by Schein, it sounded as if he was going to one of Swift's MetLife Stadium shows this weekend. "I've got some friends who are also big fans and who are kind of in my age group too," he said. "We'll go together."