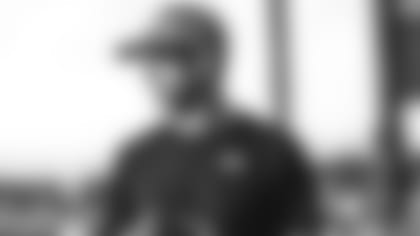 Aaron Rodgers knew he wouldn't be suiting up for Thursday night's Jets-Browns Hall of Fame Game, so he bided his time on the Jets sideline, wearing a headset and speaking into a mic. It might have started out with conversations with his assistant coaches, but in the third quarter it shifted to the NBC booth. And anyone who thought the Jets' new quarterback would have some different thoughts when he was talking to a primetime football audience than when he was talking to Jets media and fans at 1 Jets Drive was sadly — or if a Jets fan, gladly — disappointed.
"I still had a love for the game. That never went away," Rodgers told Mike Tirico and Cris Collinsworth about his now legendary darkness retreat before meeting with and ultimately agreeing to a trade that was finally consummated withthe Packers during draft week. "It was just about figuring out what I wanted life to be like in 2023. And this has definitely exceeded my expectations."
Rodgers recounted for the Jets' first national audience in this season of multiple primetime games about his feelings for his new employers after spending 18 seasons of a Hall of Fame-to-be career in Green Bay.
"I love our team. I love our guys. I love the men and women that work for the organization. It's a really fun environment," he said. "That's what you've got to do for a big-time change in your life. You can resist it or jump in and surrender to the process. It's a lot of fun being around these young guys and being around a team that's really hungry, that had some success last year but finished rough. Robert [Saleh]'s done an incredible job of putting a staff together, to encourage and push these guys and hold them accountable.
"I'm just a cog in that wheel. I know my role, and it's an important one, but I'm excited that football's back and it's an exciting time of the year."
At some unknown time in the future, that energetic time of the year will go forward without Rodgers in uniform, in the preseason or the regular season or the playoffs. He had a powerful take on what that time will be like for him after he talked about spending time earlier Thursday visiting the bust room at the Pro Football Hall of Fame. Did it ever hit him during his tour that his bust would be right up there in a few more years with all the greats in the game?
"I mean, it did, yeah," he said. "I've been a fan of the league since I had a memory. There have been so many incredible players that I played against who are now in the Hall. Demarcus Ware, Ronde Barber and Darrelle Revis [three members of the HOF Class of '23], I played against all three of those guys.
"The Hall's a special place with so much great history. I grew up wearing out my VHS tape of Super Bowl highlights. This is what I've always wanted to do, to have this fun opportunity here. I had 18 great years in Green Bay, a storied franchise. And then to have that at the end of the road, it's going to be pretty special."