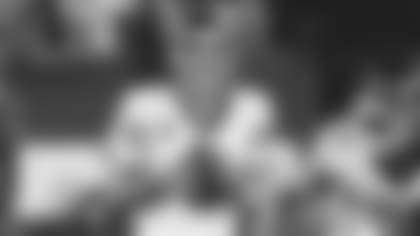 Aaron Rodgers looked slightly disheveled in his West Coast home on his Facetime chat with his good friends on The Pat McAfee Show on ESPN on Friday. His hair was unkempt, his black beard a little grown out, his eyes a bit puffy. All to be expected two days after having his left Achilles tendon surgically repaired.
But Rodgers' eyes twinkled and he smiled as he also offered some neat and tidy if cryptic messages of hope about his immediate months in rehabbing his Achilles and in his longer-term future on the field. Asked by McAfee, his former Packers teammate, about his playing future with the Jets after just four plays on Monday night, his answer was beguiling.
"I think what I'd like to say is give me the doubts, give me the timetables, give me all the things you think can, should or will happen, because all I need is that one little extra percent of inspiration. That's all I need," he said. "So give me your timetables, give me your doubts, give me your prognostications, and then watch what I do."
Just as cryptic and enticing were his responses just about his rehab from his Achilles, which he said he knew he tore as soon as he first stood up after the play on which he was injured.
"I didn't want to waste any time. Every day we wasted was a day longer for me to not be doing what I want to do," he said of leaving the New York area for surgery. "There's a lot of different ideas about the overall length of rehab, but just because somebody hasn't done it a certain way doesn't mean it's not possible. I definitely have some odds stacked against me based on my age, but I like it."
It seems unlikely that anyone, perhaps especially a quarterback who's about to turn 40 in December, can buck the odds of the nine to 12 months of rehab that generally come with Achilles tears. "It doesn't do anything to make prognostications," Rodgers said, but didn't it sure sound as if ARod was hinting at something like being cleared to play, oh, for the start of the January playoffs?
"I'm not going to make any of those statements. I don't feel that's fair to myself," he said. "I think as Kevin Garnett said, anything's possible."
Rodgers reflected on his official first day debuting before his new home crowd for his new team and what that morphed into shortly after the game began that evening.
"Monday was an amazing day to start, an amazing night to run on the field with the flag — electric," he said. "Then it turned into one of the toughest 24-hour stretches I've had in my life, for sure. A lot of sadness, a lot of tears, frustration, anger. All the gamut of emotions."
The anger, he said, rose up because "I had put so much into it, and I care about it so much. There was a lot of anger. Why? Why is this happening? And underneath all that is just the sadness. I miss being out there with the guys, the competition, the locker room, the field, the games, everything that makes this sport so beautiful."
"A lot of the sadness I think initially is I let a lot of people down who supported me and made the transition so incredible," he said. "A big part was how hard I worked because I wanted to dominate in a way I can dominate and do things on the field. So a lot of sadness the first 24 hours after the game because of how excited I was about the season.
"At the same time, it was a very surreal feeling, when I was back at my house, watching Xavier Gipson running that punt return. So I was sad, but so excited for that kid, an awesome kid, and for our guys to come back and win the game was so sensational."
After watching the inspirational victory and then waking up Tuesday, he said, "the sun rose the next day, I found myself in L.A., had surgery, and since then I've been feeling better." He said the ton of messages he's received from well-wishers has kept his spirits high. And he's still thinking about his Jets teammates, all of whom he's spoken so highly of.
Such as Zach Wilson, whom McAfee asked Rodgers about stepping in to replace him under center.
"I'm very confident in Zach, and I think he's confident in himself," he said. "It was important this offseason for him to get his confidence back and work on little fundamental thing that I think you saw show up the other night. Truthfully, I was hoping he'd have a couple of years to sit back and relax ... but life throws a lot of curveballs. He's a great kid. I love him, I'm pulling for him."
And, Rodgers said, he's eager to get back to North Jersey to help Wilson and his teammates and head coach Robert Saleh's program in any way he can — "as soon as I get ambulatory, which is going to happen pretty soon, and I imagine I'm not going to be on the sideline for a while. But whatever box I'm in, I'll be able to throw a suggestion or two in there."
But to get to that point, he's already been acquiring information from "people all over the country" given him advice on their Achilles rehabs, including some "big names" athletically, and he read up on the late Kobe Bryant, who came back from an Achilles tear. And he said he was keeping some immediate rehab plans "tight to the vest."
It led Aaron Rodgers to one more statement that gave the Jets and their fans hope that they will see No. 8 starting at QB for the Green & White again, maybe or maybe not sooner than they think possible.
"Adding to what I've already put together," he said, "it's a pretty good rehab plan that I think's going to shock some people."