Jason Oshins combined two of the loves of his life — New York Jets football and the Jets' Taste of the NFL benefit — into a dream morning earlier this week, engaging in a photo shoot for the seventh annual benefit with Jets players Nick Mangold, Darrelle Revis and Leon Washington.
Here's the story of how the Jets became Oshins' eleven.
"It was a childhood thing for me," said Oshins, a lawyer with offices in Fort Lee, N.J. and Brooklyn, N.Y. "My dad, Ed, started with season tickets in '75. My brother, David, and I go to the games now, and my 10-year-old son, Jake, is going now, too. My brother lives in Orlando and gets to several games a year. He makes the trip up to the game and back home all in the same day."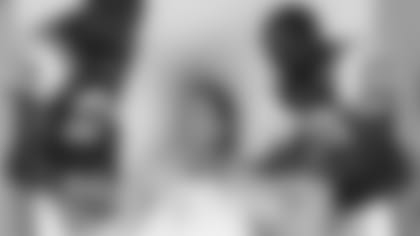 Oshins also is a big fan of training camp. He was at the camp at Hofstra in the mid-Eighties when an 18-wheeler pulled up into the parking lot.
"A friend of Joe Klecko's drove up," he remembered. "Then Scott Dierking jumped in, Klecko got behind the wheel, and they all drove off."
Out of such memories come tailgating rituals at Jets games in this decade — Oshins' territory is Lot 12C — and also the search for ways to meet his football heroes and have a great time in the process.
Which led him seven years ago to the Taste of the NFL benefit, a great night out with many current and former players, even a coach or three, a multitude of like-minded fans, and chefs from the New York region's best restaurants, serving up tastes of their establishments in food and wine. It's a fantastic event.
"Obviously there's the connectivity between the player and the fan at this event — you get to see the players up close," Oshins said. "And seeing the chefs, too, is really amazing. The food, the auction, the whole event ... it's tastefully done."
This Year's Tasty Details
This year A&P and the Green & White will team up at the seventh annual New York Jets Taste of the NFL benefit to fight hunger in the metropolitan area.
Nick Mangold, Darrelle Revis, Leon Washington and many other Jets players will be on hand for the event Tuesday, May 5, at the spacious Cipriani Wall Street. Guests will have the opportunity to mingle with their favorite Jets players, savor exquisite cuisines from New York City's finest restaurants, sip fine wines, bid on once-in-a-lifetime experiences, and more.
Cipriani is located at 55 Wall Street between William and Hanover Street. Tickets are limited and are on sale now.
VIP tickets, at $400 apiece, provide guests early entry from 6-7 p.m., with exclusive access continuing through the evening in a private area. Doors open for guests holding general admission tickets, at $250, at 7 p.m. All proceeds benefit the New York Jets Foundation.