The sixth MetLife Bowl was a defensive battle between the stadium's co-tenants for a long time, featuring outstanding Jets defense, especially against the run, and continuing through DE Kerry Wynn's long fourth-quarter return TD of a Bryce Petty interception to give the Giants their first lead of the night.
Then the game ended on offensive notes — Christian Hackenberg coming on for his first action as a pro and leading the Jets to 10 points and a 20-14 lead, and the Giants striking back late with a deflected interception and Ryan Nassib's second touchdown pass of the game to WR Tavarres King.
When the dust had settled, the Giants had stopped the Hackenberg offense on fourth-and-1 at their 45 and pulled out a 21-20 victory to even the MetLife series at 3-3. The Jets fell to 1-2 on the preseason, the Giants rose to 1-2, and the teams' streak of the visiting winning in every matchup in the new stadium since 2010, pre- and regular season, was extended to nine games.
"We got better in the first half," head coach Todd Bowles said about a first two quarters in which the Jets led, 7-0, and held the Giants to 40 yards of offense. "Those guys learned how to play together a little bit. We got some continuity and chemistry. It was a big improvement from the last two weeks."
But Bowles added about where how close his team is to where he wants them to be for Cincinnati, "We're not close. We still have a lot of work to do before opening day."
Here are eight observations on the Jets' loss as the game unfolded:
1. Forté Front and CenterBowles and OC Chan Gailey wasted no time getting Matt Forte the ball in the featured back's game debut for the Jets. Forté had five touches and a first-down reception on the Green & White's first eight offensive plays and finished with 12 touches for 37 yards. "It was good for him his first time out," Bowles said of No. 22. "He got to take some hits and go full-speed and get used to live action again. From that standpoint it was real good."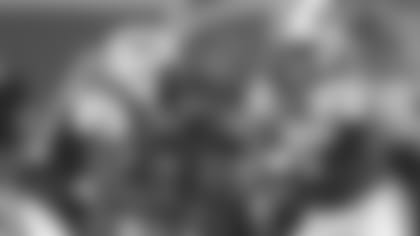 2. Welcome Back, WilkMuhammad Wilkerson, like Forté, had sat the first two preseason games but No. 96 also hit this game as if shot from a cannon with four tackles in the first half. Three came on no gains by the Giants, the fourth on a takedown of RB Rashad Jennings for a 4-yard loss early in the second period. And shortly after that loss, Wilkerson and David Harris conspired for another loss as Mo's heavy pressure on Eli Manning and Harris' quick tackle on TE Will Tye knocked the Giants back 2 yards.
3. More Special StuffBruce Carter and Rontez Miles burst in on Brad Wing's first punt, with Carter snuffing it and giving the hosts a first down at the Giants 15. It was another feather in ST coordinator Brant Boyer's units and was the Jets' first preseason blocked punt since IK Enemkpali at Cincinnati in '14, first preseason block at home since Eric Smith vs. the Giants in '10. But the scoring chance was lost when Ryan Fitzpatrick lost a third-down strip sack by old friend Damon "Snacks" Harrison.
4. Fitz-to-DeckWith Brandon Marshall sitting this one out due to a sore hip, Ryan Fitzpatrick turned to his other old reliable wideout late in the second quarter. The ice was broken on a nifty 22-yard strike to Eric Decker, who beat CB Janoris Jenkins out of the slot on the route to the goal line with 5:20 to play. The TD ended Fitzpatrick's night — and no doubt his preseason — with a 9-for-16, 76-yard passing line, no INTs but a lost fumble on his only sack. "Glad I got that one out of the way in the preseason," Fitz said.
5. QB Questions?Questions will be asked of Bowles about his backup quarterback position. Geno Smith came in for Fitzpatrick on the last series of the first half and got the first drive of the second half. The totals: 3-for-5 passing for 14 yards, 11 offensive plays, 39 yards, two punts.
Then Petty came on. He was 5-for-10 for 59 yards, and his three drives went 18 plays and 68 yards to a field goal, a punt and a pick.
6. He Can Hack ItHackenberg made his debut in green and white and fired up the Jets home crowd for a short while. After his opening TD drive, he got the benefit of a Chandler Worthy 52-yard punt return to the Giants 14 and nearly connected again with Anderson before the Jets settled for a field goal (see Ross Martin below).
After the deflected pick near his goal line, the second-round rookie from Penn State took the offense on one last quest for a game-winning field goal try. He got the offense as close as fourth-and-1 at the Giants 45 before a an incompletion. His night: 6-for-14 for 105 yards, four drives for 111 yards, 10 points, an INT and a loss on downs.
7. Milliner Up and DownDee Milliner, the 2013 first-round draft pick who's been fraught with injuries, continued his fight tonight. He had a nice breakup on a third-down Nassib throw to force a punt, but on the next drive, Dee turned to the flag for a split-second while WR Tavarres King went to the post and dived for Nassib's 27-yard touchdown pass with 1:55 left in the third to slice the hosts' lead to 10-7.
8. Martin Joins the FrayRoss Martin was struggling in his kicking battle with Nick Folk, going 2-for-4 on FGs and 0-for-1 on PATs. But he jumped back into the thick of things with his strong 55-yarder with 5:15 left in the third quarter to give the Green & White a 10-0 lead, plus a 29-yarder with 6:26 to play. The double-nickels was the Jets' longest preseason FG since Folk drilled a 58-yarder at Philly in '12 and was the longest summer kick at home since at least 1970.
Top Images from the MetLife Bowl