We present a pair of Saturday short lists to whet your appetite for Sunday's showdown at Gillette Stadium between the 4-1 Jets and the 5-0 Patriots. The first is a tip of the hat toward LB Calvin Pace's Wednesday observation on the nature of the recent Jets-Pats rivalry:
"It's always a chess match, man. It seems like the game always comes down to the last series. We've just got to be on the winning side of it."
The second provides capsules of the only four games in franchise history when the Jets and opponents had combined for zero or one loss from Week 6 of the season on.
Sept. 12, 2013 — Patriots 13, Jets 10, Gillette Stadium
In the Thursday night rain in Foxboro, it was 13-10 all fourth quarter, right up until QB Geno Smith, in his first road game as a pro QB, got the ball back at the Jets 29 with 56 seconds to play. Two plays later, Aqib Talib intercepted to end the Green & White hopes.
Oct. 20, 2013 — Jets 30, Patriots 27 (OT), MetLife Stadium
The Patriots drove 66 yards to tie it at 27 on Stephen Gostkowski's 44-yard field goal with 16 seconds in regulation. But the Jets, on their OT possession, drove 56 yards, sandwiched around Chris Jones' unnecessary-roughness penalty on Nick Folk's 56-yard miss, to Folk's 42-yard gamewinner.
Oct. 16, 2014 — Patriots 27, Jets 25, Gillette Stadium
The Jets moved 48 yards to the NE-40, from where Folk attempted to win it with a 58-yard try. Chris Jones, last year's overtime goat, was this year's regulation hero with the block at 0:00.
Dec. 21, 2014 — Patriots 17, Jets 16, MetLife Stadium
Folk tried to put the Jets ahead, 19-17, with 5:16 to play but Vince Wilfork's last act in this rivalry before departing in free agency was a blocked kick. Tom Brady then expertly killed the clock with three first downs, two of them on third-down conversions, to his three kneeldowns.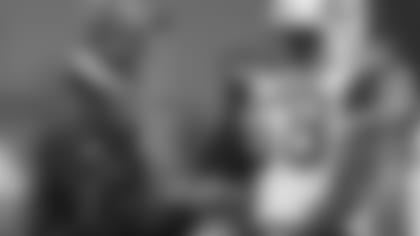 Jets-Opponents, One Loss Combined, Week 6 or Later
Oct. 15, 1961 — Chargers (5-0) 25, Titans (3-1) 10, Polo Grounds
The Titans of New York closed to 17-10 in the third quarter but Paul Lowe's 25-yard TD run with 6½ minutes to play put it out of reach for the undefeated Thunderbolts.
Oct. 8, 1966 — Jets (3-0-1) 17, Chargers (4-0) 16, Shea Stadium
Five years later the reincarnated Jets paid back an undefeated Chargers squad with a one-point win. San Diego took a 16-10 lead on a Keith Lincoln TD reception from John Hadl with 9:09 remaining, but then-rookie Emerson Boozer, who will be inducted into the Ring of Honor next month, tied it up with his 8-yard run with 6:23 to play and Jim Turner's extra point provided the winning margin.
Oct. 20, 1986 — Jets (5-1) 22, Broncos (6-0) 10, Meadowlands Stadium
The Jets took the Broncos out of it with 22 unanswered first-half points, built on a Johnny Hector TD run, a Wesley Walker-from-Ken O'Brien TD pass, two Pat Leahy field goals, and Bobby Humphery's safety sack of John Elway.
Oct. 24, 2004 — Patriots (5-0) 13, Jets (5-0) 7, Gillette Stadium
Coach Herm Edwards told his team early on it would win its first five games, and sure enough the Jets did. So did the defending Super Bowl-champion Patriots, to set up this precursor of Sunday's match.
All the scoring was done in the first half. with Tom Brady's 7-yard pass to David Patten with 5 seconds to play in the first half providing the Pats with their only TD and the last score of the defensive struggle.