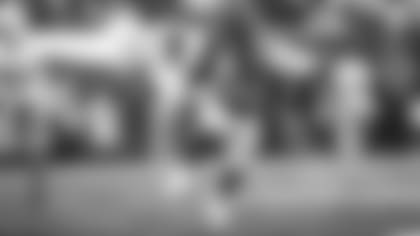 Connections I: The Greening of Former Ravens
The Jets will host the Baltimore Ravens on the NFL's opening weekend and the game, which is scheduled on the 21st anniversary of 9-11, will have many storylines.. Jets' GM Joe Douglas, Mike LB C.J. Mosley and backup QB Joe Flacco each began their NFL careers in The Charm City.
Mosley earned four Pro Bowl berths in his first five seasons in the NFL, all spent playing inside linebacker for the Ravens. Last season, Mosley, who signed in free agency with the Jets in 2019, lead the team with 168 tackles (103 solo), and add 2 sacks, 2 TFL and 3 QB hits. He was Voted Curtis Martin Team MVP by his teammates.
Head coach Robert Saleh said of Mosley: "He just shows up every single day and puts in the work and does the things necessary. He's a team-first guy. He's one of the classiest people I've ever been around, so he deserves all the praise this organization and this media market's willing to give him."
Flacco first joined the Jets in 2020 and started four games. He completed 55.2% of his passes and threw for 864 yards, 6 touchdowns and 3 interceptions. He signed with Philadelphia that offseason. Joe Douglas then traded for the veteran quarterback in October 2021. Flacco played in two games (one start) in 2021, throwing for 338 yards and 3 TDs while completing 64.3% of his passes. He again re-signed with the Jets this current offseason to again serve as a backup to second-year QB Zach Wilson.
The game will be the first time Mosley and Flacco face their former team. Douglas worked in Baltimore's personnel department from 2000-14, earning two championship rings after XXXV and XLVII. The latter was a 34-31 Baltimore win over San Francisco as Flacco was named Super Bowl MVP, throwing for 287 yards and 3 TDs.
Connections II: Uzomah (and Don't Forget Lawson) Set to Face Bengals
TE C.J. Uzomah, 29, is about to begin his eighth season in the NFL, the first seven of which were spent in Cincinnati. He played in the Bengals' 34-31 loss to the Jets at MetLife Stadium last Halloween, catching 4 passes for 33 yards while playing 47% of the snaps on offense. After missing the final game of the regular season, Uzomah returned for the playoffs and was part of Cincinnati's run to the Super Bowl, hauling in 15 passes for 146 yards and 1 TD. Uzomah said that he's also excited to be reunited with DE Carl Lawson, who is returning from an Achilles tendon injury that ended his 2021 season before it really got started. Technically, Lawson has yet to face his former team; in his four seasons with the Bengals, Lawson amassed 20 sacks in 51 games.
Speaking of new Jets' tight ends, Tyler Conklin, a Viking from 2018-21 who posted career highs last season with 61 catches, 593 receiving yards and 3 TDs, will get a crack at Minnesota on Dec.4th.
Connections III: Left Coast to Right Coast
At 25, CB D. J. Reed is another one of those "young veterans" Douglas was talking about after signing the corner in free agency from Seattle. In the 2021 season, Reed allowed opposing quarterbacks to complete 46.2% of their pass attempts when targeting him, which was the third-lowest among qualified corners.
The trade of safety Jamal Adams to the Seahawks helped to open the door for Douglas to amass the draft capital that has helped to fortify the Jets current roster with the likes of RG Alijah Vera-Tucker and WR Garrett Wilson.
The QB Conundrum: Arms to the Teeth
According to some analysts, the Jets have one of the most difficult schedules among the 32 teams in the NFL. Perhaps most of that is because of the quality of the opposing quarterbacks.
The Jets play Buffalo and Josh Allen twice; again face Joe Burrow and the defending AFC champion Bengals; again face Jacksonville and the 2021 No. 1 draft pick in Trevor Lawrence; take on Denver and a relocated Russell Wilson; and travel to northeastern Wisconsin to play the Packers and two-time defending league MVP Aaron Rodgers.
And don't forget Lamar Jackson (Baltimore), possibly Deshaun Watson (Cleveland), and Kirk Cousins (Minnesota). There are no gimmes.
Strength of Schedule
Nick Shook of NFL Network ranks the Jets' schedule as the third-most difficult in the league, following No. 1 Pittsburgh and Arizona.
He wrote: "Playing in the AFC East won't be kind on the Jets in 2022, no matter how spectacular their moves were this offseason, especially if the Dolphins live up to the hype they have generated. Wood-chipper treatment awaits Robert Saleh's team in the first nine weeks. New York faces nine straight teams that expect to contend in 2022, starting with a four-game set against the entire AFC North: vs. Baltimore, at Cleveland, vs. Cincinnati and at Pittsburgh, all before the second week of October. Miami, Green Bay, Denver, New England and Buffalo are lined up to meet the Jets from there before the mercy of the bye finally arrives. The back half of the schedule is a little lighter, with home games against Chicago, Jacksonville and Detroit, but the journey from the cellar to contention remains a steep climb."
Looking Ahead to 2023 Schedule
While the 2022 NFL schedule is still being digested and analyzed, it's also a good time to look ahead a year to the Jets' 2023 slate of games. In addition to AFC East opponents, the Green & White will face teams from the AFC West and NFC East.
Home --Buffalo, Miami, New England, Kansas City, Los Angeles Chargers, Philadelphia, AFC South TBD, NFC South TBD, Washington.
Away -- Buffalo, Miami, New England, Dallas, Denver, Las Vegas, Giants, AFC North TBD
Schedule: Nuts & Bolts
Each team's opponents are known well in advance of the schedule release date because they are determined by a formula.
Teams play six games against division opponents (home and away), four against opponents from a division within their conference (two home, two away), four games against opponents from a division outside their conference (two home, two away), two games against teams from the two remaining divisions in their own conference determined by the previous season's division ranking (one home, one away), and one game against a non-conference opponent from a division that is not on the yearly rotation (teams alternate home and away each season). This last opponent also is determined by the previous season's division ranking.
This season, AFC East teams play against teams from the AFC North and NFC North. The Jets' other three games, based on last season's division rankings, are against the Jaguars, at the Broncos and at the Seahawks.