Dakota Dozier, our fourth-round pick out of Furman, spent the first 42 starts of his college career anchoring the Paladins' line at left tackle, then the last two, plus the East-West Shrine Game, at left guard.
Where will he play in the pros? He thinks he knows.
"I took all my snaps at left guard," Dozier said of Friday's first practice of Jets rookie minicamp, and the same seemed to be true at Saturday's practice.
"I'm definitely ready for it," he said of the change in position.
As for off-field pursuits, he chuckled when I became the latest in a long line of writers to ask him about that line in his college bio, that he played the cello.
"I do get asked about it a lot," he said. "I played the cello all through middle school and high school. I didn't really pick it up a lot during college, where I focused more on football. A lot of people have asked me if I could pick it up and play a tune. Give me an hour or two and I'll be able to play some of the songs I used to play."
But we don't suspect he'll be bowing the strings any time soon. One of the Jets' rookie O-lineman marveled at the array of blitzes that were installed by the coaches for Saturday. OL coach Mike Devlin smiled and replied, "Son, that's just the tip of the iceberg."
Today is the last day of the rookie camp. The veterans resume their voluntary offseason program, along with many of the draft choices and undrafted free agents (but not WR Shaq Evans, who has to finish his course in Scandinavia literature at UCLA). Most of the tryout players mentioned below will leave North Jersey never to return, but a handful could be signed to continue on toward training camp.
Here are six more interesting points about several of the young men who participated in this year's rookie camp.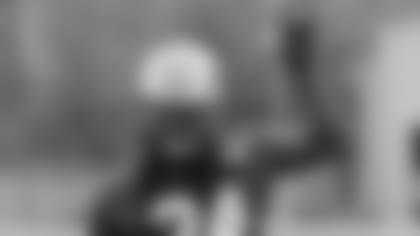 LB A.J. Edds was a fourth-round choice by the Dolphins in 2010, then left Miami and played 11 games combined for the Patriots and Colts in '11. Rex Ryan said Edds was one tryout who stood out to him over the first two days of the minicamp. "I really like this linebacker from Iowa," he said. "He's really a smart guy and it looks like he's got some physical tools as well. ... Of all the guys, he's jumped out at me."
S Christian Thompson was a fourth-round selection by Baltimore in 2012 and played in seven games for the Ravens that year. And QB B.J. Coleman was a seventh-round pick of the Packers in 2012. And a few others attended pro training camps last year.
At least two tryout players have dads who were former NFL players. OL Austen Bujnoch's father, Glenn, was a starting guard for the Bengals from 1977-80 and played nine pro seasons. WR Lavasier Tuinei's dad is Van Tuinei, a DE with the Chargers, Colts and Bears over four seasons.
Two participants have twin brothers. Sixth-round CB Brandon Dixon played on the same Joliet JC and Northwest Missouri State teams with his brother, Brian (who was signed as an undrafted free agent by the Saints, whose defensive coordinator is another twin of renown, Rob Ryan). And undrafted free agent DL Zach Thompson of Wake Forest has a twin brother, Patrick, who is a Wake QB.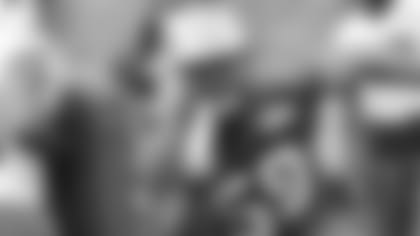 For a while this weekend the Jets had cornered the Richardson market. There's Sheldon, of course, the NFL's Defensive Rookie of the Year. On Saturday we added RB Daryl Richardson off waivers. Plus LB Shaun Richardson out of Tennessee State came in as a tryout.
We had a Latvian speaker come in for a tryout — O-lineman Markus Zusevics, whose grandparents fled Latvia upon the Soviet takeover in the '40s. Trevor Reilly has some Swedish in his lexicon after spending two years on an LDS mission to that country.
We also had an Eskimo as a tryout. Well, an Edmonton Eskimo. Shaun Richardson played for that CFL team as well as for the Kansas City Command in the Arena League.
DB Winston Longdon is a Brooklyn native who played football at both Nassau CC and Stony Brook. And CB Tevrin Brandon comes from Monmouth by the Jersey shore and had a pro-day 4.34-second 40 that would have been the fastest time among all DBs at this year's NFL Combine.
Tryout Tom Hornsey, who punted for Memphis, played Australian rules football in the same city, Geelong (he counseled me it's pronounced jeh-LONG, not GEE-long) as did Ben Graham, our punter from 2005-08. Hornsey said he's never met Graham but certainly has heard of him. And he'd like to follow in Ben's footsteps somewhere in the NFL.