It's take two for the Jets against a three-win opponent and no doubt the last take for, well, let's scale down from playoff talk and say a run at a break-even season.
"Everybody is [ticked] off," head coach Todd Bowles said of his 3-6 team, "but we're still on the same page and in the same boat and working hard to get better."
"When you're winning, everything is easy and everybody is happy and having fun," QB Ryan Fitzpatrick said of Bowles. "When you're losing, everybody is miserable. It's tough, but you try to be the same guy. I think he tries to be the same guy every day in front of us. That's an important message, just with all of the adversity."
Into the Meadowlands come the Los Angeles Rams, who, like the Dolphins last week, enter with three wins and trying to salvage their own season at the Jets' expense. The Rams also have lost five, four of them in a row, and the last three have all been by seven points or fewer.
What will it be for the Jets on Sunday around 4:15 p.m., happy funtime or more adversity? Here are seven more points to consider for Jets-Rams at MetLife Stadium:
1. Recent Rivalry SuccessThe Jets dropped nine of the first 11 meetings with the Rams but have won the last two. And even though it has nothing to do with Sunday's return engagement, it's fun to reminisce. For the Rams' last North Jersey visit eight years ago, the Jets produced their largest halftime lead (40-0) and final victory margin (47-3) in franchise history. Jeff Fisher wasn't the coach for that one but he was in '12 when the Jets prevailed at St. Louis, 27-13. In fact, the Green & White have won six of the last seven against Fisher teams, and Bowles' Arizona defenses in '13-14 in their last three games vs. Fisher's Rams allowed 10 points and 260 yards per game.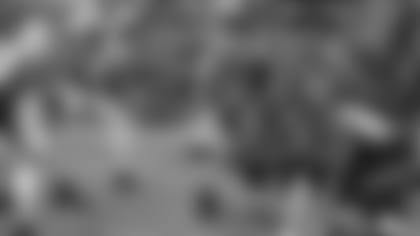 2. Keenum StickumThe Jets aren't the only team in the league with a veteran signalcaller on the hot seat and a young understudy waiting in the wings. While Bowles is staying with Ryan Fitzpatrick for now with Bryce Petty as the solid No. 2, Fisher with is sticking with Case Keenum over first pick of the draft Jared Goff on Sunday. This despite the Keenum-led offense's NFL rankings of 32nd in points, first downs and 3-and-out drive rate (28.6%) and 31st in total offense.
3. Stop GurleyStopping Keenum will be easier if the Jets stop Todd Gurley. Twenty NFL backs this year have 100 carries, and the RB with the lowest yards/carry is the Rams' Gurley at 3.1. Not what the Rams are seeking out of their 10th overall pick in last year's draft, and he has a sore thigh to boot, but Gurley still has the attention of the Jets' run defense, fourth overall in yards/game and yards/carry. "I know him and he's not going to give up from a few TFLs," said DL Leonard Williams. "He's going to be a hard-running back through the whole game." More on Williams' and the Jets' TFL showing at Miami in Saturday's Inside the Numbers.
4. Drive My CarKeenum and Fitzpatrick, who were Texans teammates in 2014, bring up the rear of the NFL's quarterbacks for most INTs thrown. Fitz is planning to play with a braced knee as well (although Bowles listed him as questionable after today's practice). Yet despite the Jets' offensive issues, they've moved the ball generally well the past two games with a surprising eight 70-yard drives. Much of that has to do with the smoothness of the RBs. Matt Forte has been a key — his best three-game numbers as a Jet are his last three with five total TDs and an average of 116 YFS — and Bilal Powell would love to reprise his two-rush-TD game in the '12 road win.
5. Laying Hands on BrandonWe keep waiting for Brandon Marshall to bust out. He's due — he hasn't cleared five catches or 70 yards in any of the last four games. But he keeps mauling opposing defenses into fouling him. Last week he forced the 'Fins into three flags (two accepted), giving him eight consecutive games drawing a penalty on the opponents, with 12 penalties (eight accepted) in that span for 109 yards marked off. Add some key catches from the Jets' young mitts, possibly including Devin Smith, now on the active roster, and the offense should keep moving the chains.
6. "The Donald"The Rams' defense, on the other hand, is a top-10 unit, and a major reason for that is DT Aaron Donald, who officially leads LA with five sacks and unofficially leads the NFL with 19 QB hits. The Jets are well aware of him — Bowles' assessment: "Very quick, very fast, very powerful, smart player, tough player, knows how to get after it." And D-line mate Michael Brockers artfully mixed his metaphors when he called Donald "a bowling ball with the strength of two men." As last week with Ndamukong Suh, it'll be up to the Jets' interior linemen to try to keep him at bay.
7. Special Task ForceKick coverage hurt the Jets in the South Florida sun as they gave up Kenyan Drake's 96-yard go-ahead kickoff return (after Antonio Allen was called offside on the first KO) and a 57-yard punt-return score nullified by penalty (Allen was illegally blocked by Drake). Punt returns could be important in this one, especially considering Jets ST leader Josh Martin is out. STC Brant Boyer feels Jalin Marshall is emerging — "Jalin's done a pretty damn nice job" — but his sleepless nights are from preparing for the Rams' Tavon Austin — "The guy's a special guy." Austin's averaging a good but not outrageous 9.2 yards/return. P Lachlan Edwards, AA & Co. have to keep it that way to help a Jets winning effort.
Top Images from the Jets' Battles with the Rams Franchise