The NFL stands for Not For Long. Exhibits A and B: the Jets and Dolphins.
Not long ago, many thought the Jets were destined for a difficult season. This week some even broached the P-word with head coach Todd Bowles.
"Playoff talk for me is not valid at all," Bowles said. "This one is pivotal because it's another division game. When you get them back to back, you don't have time to celebrate if you win or sulk if you lose. You just have to play them, and that's what we're doing. We have our head down, we are going to play them."
And not long ago, many thought the Dolphins were about to step up to playoff grade. At 3-2, they still may, but Dolfans have been rough on their team after its 1-2 start, including the 20-6 loss to the Jets, and 32nd-ranked offense.
Regardless, the Jets want to go 4-3 and even their AFC East record at 2-2, while the 'Fins want to stay ahead of the Jets at 4-2 with their first division win. To the winner goes the right to hear more playoff talk next week.
Here are seven points of interest as the Jets try for only their second sweep of Miami since 2007.
1. Home Away from HomeThe Jets' Game 3 home win over Miami hiked their regular-season advantage in the rivalry to 54-48-1. Now they take aim at their 25-25-1 mark in South Florida. Their record is even better at 16-13 at the venue that opened its doors as Joe Robbie Stadium and is now known as Hard Rock. Green & White fans have always turned out there, and this year Aqua & Coral rooters have been irascible, booing at both of the 'Fins' HRS games. Maybe their win at Atlanta will alter the mood, but the Jets have a great opportunity to start fast and enjoy the ambience.
2. Trending TopicNot many of the Jets' NFL rankings are stunning but one measure has been rising steadily. Their scoring defense, 32nd after yielding those 45 points at Oakland in Game 2, has progressed to 24th after Miami, tied for 21st after Jacksonville, 15th after Cleveland and tied for 13th after New England. Is this trend real? The rematch with the Dolphins will tell a lot — the 'Fins' offense has languished for several weeks in last place in the league in total yards/game, pass yards/game and points/game (12.2).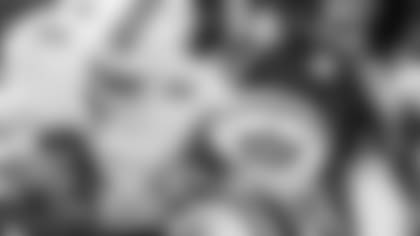 3. Coming After CutlerThe Jets' run defense has had ups and downs. A big up was the 30 yards Jay Ajayi and Miami's rushers managed in Game 3. If Muhammad Wilkerson and Leonard Williams can come close to that effort, they should then be able to pin their ears back and get off their sack schneids. Although Jay Cutler's been fairly well protected, the Jets' three sacks and seven QB hits on him are their season highs. Leo's list for the game in front of friends and family: "I want to get after Cutler, get some TFLs, stop the run, and get a team victory."
4. Skrine PlayBuster Skrine didn't like the loss to the Patriots but he had to admit of his play, "Yeah, it felt good." The prideful CB scored his third interception and his first three-PD game as a Jet. Add his fumble recovery to the mix and he had the Jets' first INT/FUM daily double since Darrelle Revis at Indy in 2015 and their first two-takeaway first half since Jaiquawn Jarrett vs. Pitt in '14. Skrine will need to stay hot to keep WR Jarvis Landry (Miami's leader with 38 catches but at a career-low pace of 7.2 yards/catch) & Co. from going off.
5. Health and WellnessHealth is relative in the NFL, but it can be argued that with all their injured players except for Muhammad Wilkerson listed as full-go, including RB Bilal Powell (calf) and WR Robby Anderson (ankle), the Jets and especially their offense are in their best physical shape of the regular season. The Dolphins, on the other hand, don't have as long a list but their offense, a unit that doesn't need more setbacks, might not have C Mike Pouncey (concussion, questionable) and WR DeVante Parker (ankle, doubtful). Ajayi (knee) was full today after his weekly Thursday DNP.
6. Red Zone ReduxOne situational issue we'll get into in Saturday's Inside the Numbers is the Jets' third-and-short. Today it's another situation. One more repercussion from Sunday's controversial replay reversal is that it also hurt the Jets' red zone production. In their last three games vs. Miami, they're 2-for-11 in scoring TDs inside the red zone, even with 1-for-2 last month. For the season they have a 45.5% TD rate inside the 20, 26th in the NFL. The Dolphins' RZ defense, meanwhile, is 28th at 63.6%. Josh McCown to Austin Seferian-Jenkins on the goal line one more time?
7. Getting Their KicksThe Jets' kickoff coverage has been strong. Chandler Catanzaro has boomed 19 touchbacks on his 26 kicks, six of the seven returns led to tackles inside the 20, and opponents' 22.7-yard line after KOs is second-best in the league. Miami hasn't done much on its returns, but it surely has been brought up this week, in both special teams rooms, how Kenyan Drake's 96-yard TD return after a Jets rekick with 5:15 to play at Hard Rock last year turned a Jets road upset into a Dolphins home save. ST coordinator Brant Boyer: "It's certainly on my mind, I know that."
A Look Inside the Series Between the Jets and Dolphins