Much will seem different to fans for the Jets' quick-turnaround Thursday night game at Buffalo.
The Jets' white jerseys/white pants/hunter green trim are familiar enough, but due to NFL Color Rush issues, they'll be wearing that combo on the road for the first time under head coach Todd Bowles.
Also, want to watch the game digitally? You can, since the NFL has gone to a "Tri-Cast" distribution model that will air this game and all subsequent Thursday-nighters this season on broadcast (CBS or NBC), cable (NFL Network) and digital with Twitter.
Even the Jets playing at Orchard Park on Thursday is wild. The teams battled on that night in 2009 but it was at Rogers Centre in Toronto, and they've never played on Thursday night at Buffalo. Further, this will be the first regular-season game for the Jets, not to mention Rex Ryan's Bills in their home opener, that will be played at newly renamed New Era Field (formerly known as Rich Stadium and Ralph Wilson Stadium).
Here are seven more points to consider regarding this very important first game of the NFL's second week:
1. The RivalryThese original AFL combatants have played twice a year every year since 1960 (except 1982) in what had been an even rivalry — until 2013, when the Bills began their current five-game winning streak and four-game home run to take a 59-51 lead in the series. Of course, the most important records for both teams are 1-1 and 0-2. The winner becomes 1-1 overall and in the AFC. The loser falls to 0-2, which is a black hole where many playoff aspirations go to die.
2. Sack AttackOne thing the Jets defense displayed against Andy Dalton and the Bengals — and will try to duplicate against Tyrod Taylor and the Bills — is a seven-sack pass rush. That's tied for the most sacks after one game in franchise history, and it marks the first time the Jets have led the NFL in sacks after opening week since the stat became official in 1982. Needless to say, sacks weren't enough to prevent Sunday's 23-22 loss, but with Sheldon Richardson returning to the front seven after his one-game league suspension, there should be no loss of Jet pressure in Western New York.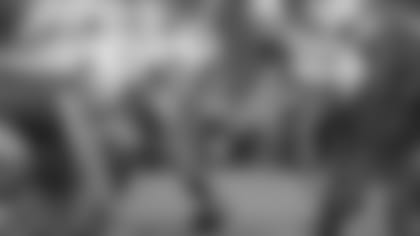 3. Forté's Next ActMatt Forte's opener against the Bengals was outstanding — his 155 yards from scrimmage were the most in franchise history for a player making his Jets debut. Other backs had less productive first games, such as LaDainian Tomlinson (78 YFS in 2010), Thomas Jones (48 in '07) and Curtis Martin (99 in '98). Matt Snell, as a rookie, was the only other RB to clear 100 with his 101 yards vs. Denver in 1964. And among receivers, only Don Maynard's 116 scrimmage yards — in the NY Titans' very first game, vs. the Bills in 1960 — comes close.
4. What's Up with Watkins?We're not sure. In the wake of a report that the Bills WR could miss weeks because of pain in his surgically repaired left foot, Watkins told reporters, "I'm definitely going to be out there playing" vs. the Jets. He was listed as limited at today's practice and questionable for the game. Bowles is assuming Sammy will be in his Color Rush red uni: "He's fast, he's good, he's similar to A.J. [Green of Cincinnati], and we have our work cut out for us." In four games vs. the Green & White, Watkins has 20 catches for 342 yards, a TD and 13 first downs.
5. Not Better to Give than to TakeA sure way to build a five-game losing streak to a division opponent is to lose the turnover battle, and that's what's happened to the Jets against the Bills. Last year it was a minus-4 TO margin at home and the three Ryan Fitzpatrick picks at Buffalo. In the last seven meetings, the Jets have two takeaways (Darrelle Revis' fumble recovery at Buffalo last year ended the Jets' five-game turnover-less drought) to 22 giveaways for a minus-20 margin. Even Jets fans who know nothing about Twitter and Facebook know this trend in need of a quick reversal.
6. The Right Stuff?Fans were nervous about the Jets' RT time share between Ben Ijalana, who made his first pro start Sunday, and Brent Qvale, who alternated series with him. Fitzpatrick, whose opinion really counts, said, "In terms of my confidence level, the way I thought they performed, I didn't really notice anything — which is usually a good thing." Ijalana, who Bowles said is better vs. the pass, got 39 snaps vs. Cincy while Qvale, better vs. the run, got 32. Bowles said the two are "probably still neck-and-neck" and he wants to decide on one starter. But Nos. 71 and 79 will be an entry again Thursday.
7. Tangled WebWe won't list the 11 assistant coaches who accompanied Rex from the Jets to Buffalo last year, but one former Jet was an interesting addition to the Bills staff this year — S Ed Reed as assistant DBs coach. Other ex-Jets on BUF's active roster include DE Leger Douzable, WR Greg Salas and WR/KR Walt Powell. And we could see a pregame Louisville alumni banquet breaking out on the New Era field with one-time Cardinals RB Bilal Powell, S Calvin Pryor and LB Lorenzo Mauldin (not to mention PUP-ed T Breno Giacomini and OL coach Steve Marshall) suiting up for the Jets and C Eric Wood, LB Preston Brown and G John Miller for the Bills.