It was a most interesting draft for the Jets. They traded up to take a quarterback they liked in Sam Darnold third overall on Thursday, waited a while to pick again Friday, wound up taking two Division II players, and concluded a little early Saturday with three trades to come up with three Round 6 picks and add a veteran D-lineman.
What did GM Mike Maccagnan and head coach Todd Bowles think of this year's draft process? Here are six takeaways from their end-of-draft news conference:
"We Feel Good About It"Maccagnan felt in general the draft unfolded well for the Green & White. "Not having the two second-round picks, of course we felt good about how the trade turned out obviously," he said. "Philosophically, we always try to address needs in pro free agency, while in the draft we focus on trying to find good value for where we pick."
That led to exploring tradeups and tradedowns. When the draft began, the Jets had six picks. When it was over, they spent six picks but also picked up a veteran D-lineman in Henry Anderson in a trade with Indy.
So bottom line, Mac said, "We feel good about it. We feel we have some good, young players. We like them both from an ability standpoint and we feel we have some good character guys, too."
Todd on Shepherd/FatukasiOn the surface, third-rounder Nathan Shepherd  (6'4", 315) and sixth-rounder Foley Fatukasi (6'4" 318) might look to be fighting for the same spots in the DL rotation. But Bowles assures that isn't so.
"Same size, different players," Bowles said. "We're going to have plans for both of 'em. They can play the same side, they can play opposite each other, they can also give Leo [Williams] a break, and they can also play at the nose. But we have them slotted for certain things with how we're going to use them."
Tight End AssessmentMaccagnan said fourth-round pick Chris Herndon combines "very good receiver" with "functional ability to be an effective blocker" into "a dual guy, in our minds."
"He's probably a little more athletic than some of the tight ends we have and probably a better pass receiver," Mac said. "But we do like him overall. We think he's a good young prospect."
One small caveat: Herndon is still rehabbing a knee injury suffered late last season and might take 4-6 weeks before he can cut it loose. "But," said Mac, "we feel very comfortable where he is in terms of his recovery process."
Small Schools, Big ValueThe Jets went to the NCAA Division II well twice, for Shepherd out of Fort Hays State and Trenton Cannon from Virginia State. Our research indicates that's the first time since 1979 the Jets took two D-II athletes in the same draft.
"In years past, it worked out that we mostly drafted guys from bigger schools," Mac said. "This year in particular, we found some guys we liked and the way the board unfolded, they were there when we felt we had good value for them."
The Anderson DealMaccagnan was asked about the seventh-round trade for Anderson, who ended last season on IR with a fractured larynx. "He'll have to come in and pass the physical," the GM explained. "If he does not pass the physical, then obviously the trade will not go through." The Jets would likely get a Colts seventh-rounder next year in compensation.
But Mac isn't figuring the trade will go that way.
"They were changing from a 3-4 to a 4-3, and we actually like the player," he said. "He's 27 years old, going into the final year of his contract. But we liked him coming out of college, he's excellent from a character standpoint. We thought it was a good opportunity to maybe add a guy. We'll see how he plays for us."
Endnote: Weighing the TradesSo who won the trade exchanges between the Jets and Vikings? If we go by the typical draft value chart to assess it, in the first trade, when the Jets sent No. 157 to the Vikings for 167 and 225, the Vikes got a pick worth 28.6 points and the Jets got two picks worth 26.3.
Then when the Jets sent back 167 and 225 and got 180 and 204 from Minnesota, the tally was Jets 29.2, Vikings 26.3.
The bottom line for the deals: The Jets "won" the exchange, 55.5 to 54.9. In draft trade chart terms, that 0.6 difference is about the value of a low-Round 7 pick, maybe even a free agent. In other words, the deals worked out pretty fair for both sides.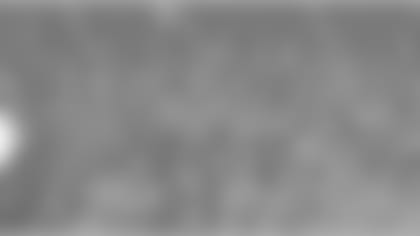 ](https://www.ticketmaster.com/venueartist/1233/805987?brand=jets&CAMEFROM=CFCNYJETSWEBNYJBUTTON6IG&ga=2.248878532.257812312.1524856068-1790986430.1510696517)