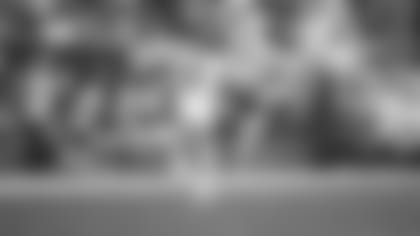 Ninety-three seconds, was all it took to erase a 13-point deficit as the Jets snapped a 13-game losing streak in September when they rallied for the 31-30 victory at Cleveland.
According to ESPN stats, the Jets were the first team in 21 years to erase an opponent's 13-point lead in a game's final two minutes -- a span of 2,229 games. The last time it happened: 2001 when the Chicago Bears came back to beat ... the Browns.
Football may be the ultimate team game, yet, for all the late-game heroics (and there were plenty), four individual plays were pivotal.
No. 1: The Fake
After going three-and-out on their first series and watching as the Browns drive 90 yards in 14 plays, the Jets got the ball back and put together a modest drive that stalled at their 46-yard line. Braden Mann came on to punt, took the snap and then connected on the right sideline with WR Jeff Smith for 17 yards and a first down to Cleveland's 37-yard line. Seven plays later QB Joe Flacco connected with rookie WR Garrett Wilson on a 2-yard TD pass --Flacco's first of 4 TD passes and Wilson's first TD grab of his NFL career.
No. 2: Brandin Echols Makes the Play
Cleveland took the second-half kickoff and marched from its own 20-yard line to the Jets' 4, facing a third-and-goal play with the game tied, 14-14.
Brandin Echols was in at cornerback for an injured Sauce Gardner, and the change did not go unnoticed by the Browns' coaching staff or QB Jacoby Brissett. On a pass play on the right side of the end zone, Brissett spied Howard Bryant, who had a sliver of an edge on Echols. But the second-year man from Kentucky managed to get his fingertips on the ball as it fell incomplete.
The Browns were forced to settle for a field goal and a 17-14 lead.
No. 3: To the Max
Few mentioned this play, but in hindsight, it was big ... very big.
Rookie offensive tackle Max Mitchell, a fourth-round draft pick, was pressed into duty in Week 1 against Baltimore and again in Week 2 at Cleveland because veteran Duane Brown is on Injured Reserve.
With the Jets trailing, 24-17, with 3:27 left in the fourth quarter, Flacco completed a 4-yard pass to Tyler Conklin at the Jets' 11-yard line. Cleveland's Jeremiah Owusu-Koramoah dislodged the ball from Conklin and tried to recover. But Mitchell was there to quickly pounce on the ball and stave off a turnover deep in Green & White territory. The Jets punted to end the series.
"I owe him dinner because ball security is something I'm typically pretty good damn good at," Conklin told reporters Monday.
No. 4: The Onside Kick
Special teams coordinator Brant Boyer has the Jets practice onside kicks each Friday before a Sunday game, sometimes they practice the play midweek.
After cutting Cleveland's lead to 6 points after Flacco and Corey Davis collaborated on a 66-yard scoring pass, Braden Mann placed the ball flat on the kicking tee, approached it facing the right sideline, then quickly swiveled his hips to the left, kicking the ball toward head coach Robert Saleh.
"We work on a bunch of different kicks just in case a certain situation calls for it," Mann said. "We'll hit on it at least Wednesday or Friday."
Before the play, S Will Parks and special teams wizard Justin Hardee had a chat.
"Will Parks was like, 'Man, I'm going to smack Amari Cooper, I'm going to keep the ball alive,' " Hardee said. "Once the ball was twirling around, all I see was the guy who was supposed to catch it got hit and then another guy, it bounced off a few hands. Once it touched my hands, it wasn't going nowhere else."
Parks hit Cooper and then tipped the ball and tried to grab it. Two Browns players touched it before Hardee fell on it, and he didn't let it go.
"It was a crazy play," Mann said. "It was a really good job by Will Parks and Hardee outside, jumping on it. That's not an easy job to have. They have a good chance of getting knocked pretty good. It was a great job of them keeping it in play and Hardee jumping on it."
The play led to the eventual game-winning TD (Flacco to Wilson again) and PAT.
"It was really cool to get a win with everybody. It was a great team win, great complementary football at the end of the day."
No. 5: One Defensive Snap
Cleveland had one last chance.
Ashtyn Davis had one play.
After the Jets took the lead, Browns QB Jacoby Brissett had 22 seconds to engineer a comeback. He scrambled 21 yards to the Browns' 46 with 12 seconds left. With the Jets jamming the defensive backfield, defensive coordinator Jeff Ulbrich inserted Davis, a safety, into the game. It was Davis' first defensive snap of the season. In the game, he had taken 20 snaps on special teams.
"Whatever opps come my way, I'm trying to contribute however I can," Davis said. "I got an opp today and I tried to make the most of it."
Brissett's pass over the middle was nabbed by Davis, who slid to the turf as time expired.
"He may be buried to others, not here" Saleh said. "There's a reason why he made the team. He's getting better every week."