With his second NFL start and his first pro victory Sunday at San Francisco and in the locker room before and after, Bryce Petty is showing his true colors to reporters and fans. Here are four Petty personality traits we've learned out of the game and through today's open locker room period:
1. Petty the Super-PunctualOne thing we know is that Petty is super-punctual. WR Brandon Marshall noted that last week when he said, "The first person I see every morning is Bryce Petty. He's the first one in every day."
And Petty showed that again today, doing what some starting QBs do but a lot others don't, which is to be at his locker when the media period begins, ready to entertain reporters' questions.
2. Bryce the Wealth SpreaderPetty was asked about his personal evaluation after watching the game video back in North Jersey earlier this week. He preferred to pat his teammates, not himself, on their collective back.
"Definitely a better second half than first half," he said. "I've got to clean some things up there. But overall, man, I was just really excited and happy about how we fought as a team, coming back from 14 points. So that's exciting, that's encouraging, and I'll continue to get better."
As for any feeling that his teammates, especially young guys like himself, were feeding off his energy on the long comeback road in the second half, he replied: "I think we fed off of BP more than anybody."
He was referring to "the other BP," Bilal Powell, and not to himself in the abbreviated third person.
3. Bryce the Gunslinger?The "Concern of the Week" for many is that as remarkable as the Jets' comeback effort was, perhaps Petty was a little too much of a gambler for their tastes.
Head coach Todd Bowles agreed that "It's a fine line. You don't want to see it every week because you know it's going to come back and bite you in the butt. ... But the plays he made the other night ended up benefiting him."
Exhibit A seemed to be the overtime longball that Robby Anderson caught for the big 26-yard gain at the SF-25. But the view from here is that even though Petty was rolling to his left, he didn't contort his body to throw an off-target wobbler on the run as he was heading out of bounds. He bought a precious half-second drifting back from closing Niners DE DeForest Buckner, set his feet, and fired a high strike for Anderson, who had position on S Jaquiski Tartt to snatch the throw.
OC Chan Gailey's thoughts as he saw the play unfold: " 'No, no no.' Then he had a great play and you get your call sheet ready for the next one."
And Petty's view: "I don't like to use the word gamble, but I think that's something that I've done since high school is when a play breaks down, I don't like giving up on plays."
4. Petty the ThesauristA reporter pressed him: If not "gamble," what word would he use?
Petty chuckled, then said, "Making a play, I guess? Yeah."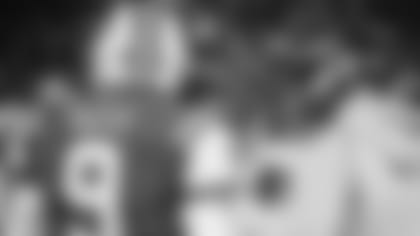 5. Petty the StudentNeedless to say, no one wants to see Bryce turning the ball over with ill-advised throws. Nor do they want to see him get sacked six times, as the Niners did. He knows that, and he's also shown that he's a quick study, from one preseason game to the next, from one regular-season start to the next. He's ready to improve on not taking another sixpack of sacks vs. Miami on Saturday night at MetLife Stadium.
"Those sacks were my fault. I've got to get rid of the ball, especially in this league," he said. "It's such a negative play when you take a sack, so I've got to get better at that. I'll probably be better this week in those scenarios — trust what I see and play. The Dolphins, they've got a really good pass rush, definitely the best I've seen playing, so there's definitely an emphasis just to get the ball out and distribute because when we do that, positive things happen."
Injury PictureEven with a Saturday night game, today was the first day to officially list injuries, and Bowles again had a bunch of DNPs. The achy eight: RBs Matt Forte (knee) and Khiry Robinson (leg), TE Brandon Bostick (ankle), NT Steve McLendon (hamstring), T Brent Qvale (hamstring), CB Buster Skrine (concussion) and LBs Lorenzo Mauldin (ankle) and Mike Catapano (knee). Bowles was not ready to declare any of the eight in or out for the Dolphins.
Practice Squad AdditionRB Brandon Burks has signed with the Jets practice squad, completing this week's round of roster maneuvering. Burks is a rookie free agent from Troy who spent the offseason with Green Bay and nine days in November on the Packers' P-squad. He led the Pack in the preseason with 120 yards and a TD on 31 carries. In four Troy seasons he averaged 5.2 yards on 430 carries and 7.6 yards on 88 receptions and scored 15 TDs.