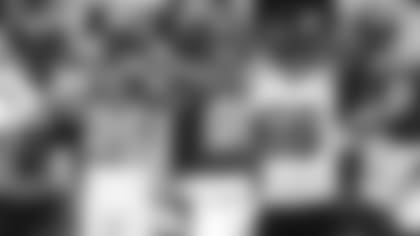 Five Jets to keep an eye on when the Green & White make their first trip to Houston in six years to play the Texans on Sunday:
QB Zach Wilson — How well will Wilson, making his first start since Game 6 at New England due to his knee injury, harnesses his emotions and walk that tightrope between being too cautious to let it rip when necessary and being too tight to operate at peak efficiency right out of the box. He'll definitely be looking to (re-)connect with his wideouts, led by hot rookie Elijah Moore and top veterans Corey Davis and Jamison Crowder. A telling factor will be how Wilson protects the ball. He has yet to lose a fumble as a pro but he threw 9 interceptions in his first 5-plus games. And the Texans have gotten to like the taste of turnovers the past two weeks, coming up with 10 takeaways at Miami and Tennessee — the most TAs in back-to-back games in the NFL since 2019.
RB Ty Johnson — Another intriguing Jet to observe is Johnson, whose profile should increase with the absence of Michael Carter for a few weeks with an ankle injury. Johnson's yards per carry are down at 3.4, possibly because in his third-down role, he's been focused on picking up the short yards and moving the chains. But his receiving skills have been outstanding with his 10.8-yard average on 25 receptions third-best among NFL RBs. And his attitude is exemplary, as he explained when it was suggested Carter sitting out spreads his wealth of runs, catches and plays to the other backs: "With him being out, there are opps, but I don't take it as, 'oh, get hyped up.' It's not like that. It's just do my job because I want to win, this team wants to win, so just get in there and do my job."
DL Quinnen Williams and LB Quincy Williams — Can the brothers tag-team Tyrod Taylor, back at QB for Houston, and the Texans offense, which has struggled as much as Miami's did before last week's matchup with the Jets? The Texans are 32nd in total yards per game and play, 32nd in rush yards per game and play and 31st in pass yards per game. Quinnen leads the Jets with 5.0 sacks and 11 QB hits but has had only 1.5 sacks and 3 hits the past 5 games and would enjoy barging into the backfield a few times. Quincy, meanwhile, is coming off his 15-tackle, 2.5-TFL game vs. the Dolphins and is expected to keep seeing increased snaps with the Jets being careful with Jarrad Davis. The Williamses, who made quite a stir when they merged forces to rough up Ryan Tannehill and the Titans in Week 4, would be all in for a another family reunion Sunday.
K Matt Ammendola — Ammendola missed 55- and 40-yard field goals vs. Miami, which prompted GM Joe Douglas, HC Robert Saleh and their staffs to do their due diligence and try out some kickers this week. Rookie Alex Kessman was signed to the practice squad but Ammendola will still handle the Jets' placements and kickoffs. Some pressure, no doubt, which is why he's one to watch under the NRG retractable roof. But for what it's worth, since 1997, 15 times Jets kickers have missed two or more FGs in a game, then kicked in the next game and combined to make 30 of 33 tries, a sizzling 90.9% accuracy rate. Can Ammendola take advantage of this potential kicker bounceback effect if he has any FG tries at Houston, long or short, and bangs them all through?