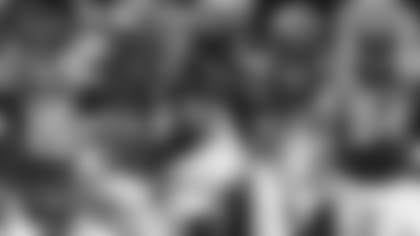 Five Jets to keep an eye on when the Green & White take on the Miami Dolphins in the teams' first meeting of the season at MetLife Stadium on Sunday afternoon:
QB Joe Flacco — Flacco's return to action as a Jet after a short, non-playing stint with the Eagles, went fine late last week as he completed 3 of 3 for 47 yards and a TD strike to Elijah Moore in relief of White, numbers that produced a "perfect" 158.3 passer rating. More data will come in as he starts vs. Miami ahead of Mike White and still rehabbing Zach Wilson and that number will go down. But key for Flacco will be mirroring his tendencies in his first Jets tour last year: producing TD drives and limiting turnovers, especially of the pickable kind in the direction of CB Xavien Howard, the AFC Defensive Player of the Week who leads the NFL from 2017 to present with 24 INTs. And of course Flacco would love to get his first starting victory since 2019, a W that the Jets team would savor as well.
RT Morgan Moses and RG Greg Van Roten — If Flacco is to survive and thrive and have the time to find his wideouts and checkdowns, he'll need strong games from his O-line and in particular from his right-side blockers. Moses and Van Roten will tangle with Dolphins DE Emmanuel Ogbah, the 6-4, 275-pounder who's been very active in leading the Dolphins with 5.0 sacks, 16 QB hits, 40 QB pressures and seven pass defenses — the PDs best among the NFL's D-lineman through 10 weeks. Ogbah, lining up as a 5- or 3-technique, has also led a resurgence of the Aqua & Coral's pass rush, which has registered four sacks in back-to-back games for the first time since 2016.
DL Folorunso Fatukasi — We could spotlight any of the runstoppers in the Jets' front seven but the fiery Foley will be leading the way if the Jets' run defense makes a comeback from its recent slumps — from 14th in the NFL after three weeks to 29th in rush yards/game allowed, to 29th in yards/carry allowed, and with no tackles for loss the past two games. Enter the Dolphins, who are 32nd in rush yards/game and 31st in yards/carry. Myles Gaskin, their leading back, has averaged 3.4 yards/carry and Miami RBs have run for only two touchdowns this year (but QBs have rushed for three TDs). This is a chance for top tackler C.J. Mosley, run stuffers Fatukasi (6.0 TFLNG) and Quinnen Williams and the Jets defense in general to regain some swagger as well as turn QB Tua Tagovailoa and the Dolphins one-dimensional.
CB Bryce Hall — With WR DeVante Parker on IR, the Dolphins' passing attack is in a similar boat to the running game. Their leading WR is rookie Jaylen Waddle with 60 receptions but at 9.3 yards/catch. TEs Mike Gesicki and Durham Smythe scored TDs vs. the Jets last year, but then there's the QB picture. HC Brian Logan said he "expects" Tagovailoa to get the start vs. the Jets but Tua missed two starts with a left middle finger fracture on his throwing hand, then banged the damaged digit on a Ravens helmet on TNF. His teammates seem to enjoy having TT in the huddle and on the field, but if the finger affects his delivery during his first full game in three weeks, the Jets defenders, and especially Hall, seeking his first INT since Game 14 at the L.A. Rams last year, could be joyful as well.